Meet Sanjay Dutt Best Friend Revealed in "Sanju" By Vicky Kaushal
Ankita Chetana |Jan 14, 2020
When it comes to talking about Bollywood stars' friendship, one of the most-talked relationships in 2018 was Sanjay Dutt best friend whose narrative was played by Vicky Kaushal in "Sanju".
Most of us have a best friend in life and so do Bollywood celebs. Sometimes, we talk about the friendship of two stars but sometimes it's simply a close relationship between a celeb with a commoner. Talking about this, we will remember the time Sanjay Dutt best friend became the talk of the town since the actor's biopic Sanju.
After releasing, Sanju drew a lot of attention from the film critics and the audience as well. One of the most precious scenes of the film revolved around the friendship between Ranbir and Vicky Kaushal's character. And it had to be said that Vicky's narrative was inspired by the 61-year-old actor's real-life friend. So, the question is who is the best friend of Sanjay Dutt in real life?
1. Who is Sanjay Dutt best friend?
"I am not Sanjay Dutt's best friend", director Rajkumar Hirani who is Sanjay Dutt book writer once revealed in an interview. Actually, he made Sanju just because of Sanjay's story and has never come under the circle of Sanjay's friends.
Post the extreme success of Sanju, netizens began to search for the true model of Kamlesh (Kamli) in the film. And right to what Rajkumar had shared before, the actor's best friend is Paresh Ghelani.
Speculations around Sanjay Dutt friend in Sanju
Discussing Vicky Kaushal's role in the film, filmmaker Rajkumar Hirani once said that its traits took inspiration from one of Sanjay's friend - Paresh. In fact, the K.G.F: Chapter 2 actor has several friends throughout his life and amongst them, Paresh is his closest friend, now living in America. The filmmaker continued to claim that Paresh's essence was remained in Sanju to keep a perfect character beside Sanjay. However, some people wondered that Rajkumar Hirani took his own personality into the film. On the other hand, people thought Kamlesh was created in form of Sanjay's brother-in-law Kumar Gaurav for quite a long time. Since then, the netizens stood in a couple of buzz streams between Kumar, Paresh, and Rajkumar.
Now you may wonder how Sanjay Dutt's best friend was reflected in the character of Sanjay Dutt friend Kamlesh in Sanju. We've got your back.
Sanjay Dutt friend Kamlesh featured in Sanju
The friend we are talking about is Sanjay Dutt friend Kamlesh Kanhaiyalal Kapasi or called as Kamli. After falling into the addiction of alcohol and drug, Ranbir Kapoor's character meets Kamlesh in New York and starts their friendship. Then Kamlesh keeps Sanju relapse his addiction post his girlfriend's fixed marriage because of his unstoppable addition. Not long later, after his girlfriend, Sanjay Dutt Ruby's split and his idol Nargis's demise, Sanju decides to take rehab treatment and gets recovered with the support from Kamlesh and his father. >>> You may want to check: Ranbir Kapoor Instagram and Other Social Media Accounts. Click on!
If you want to discover some interesting things about Sanjay Dutt best friend Kamli in real life, let's find out something about actor Sanjay Dutt best friend name and photo in the below section.
2. Sanjay Dutt best friend biography - Paresh Ghelani
Paresh Ghelani is a USA-based avid businessman and has a long time staying far away from his best friend. He participates in some organizations such as Moon Express, XPRIZE, DTV Motor Corporation – DTV Shredder, Developing Molecular Targeted Therapies amongst others. The two started to be best friends in the 1980s, at the time Sanjay was surrounded by a lot of ups and downs including the good things, the hard time, and the sadness also. While the actor was wriggling in the twists of life, Paresh appeared as a supporting pillar for him. Born in Gujarat, Paresh then moved to Chicago with his family for some years and later settled down in Los Angeles till date.
Upon the family tradition of business, Paresh inherits the term and has been on his way to becoming a millionaire entrepreneur. He is currently the Chairman of BPG Motors to produce off-road vehicles.
In social life, Paresh loves traveling and doing volunteer and social work. Though living in the US, he always pays attention to Bollywood and would like to see Amitabh Bachchan, Sanjay Dutt, and Deepika Padukone on the screen. Besides being a best friend of Sanjay, he also has the other great relationships with R. Madhavan, Raj Kundra, and Shilpa Shetty.
In his professional life, he was also the founder of the 2020 Company LLC which supplied the USA government with the most modern technology and innovations of healthcare, education, and defense. He becomes a businessman not only to earn for livings but also make up his dream of a better society. Paresh actually is yet to get married.
Sanjay Dutt best friend picture
If you are enough to know about Paresh Ghelani, you will want to have a look-book at him. And here to satisfy your demand, we have found some of Sanjay Dutt best friend photos. Check them out!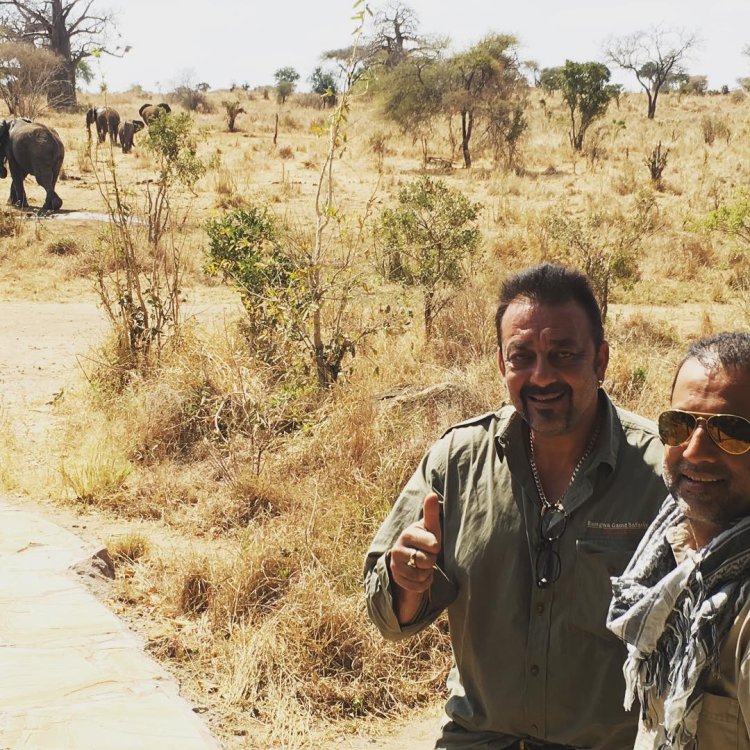 3. Touching moments of Sanjay Dutt and his best friend
A lesser-known fact for you is that during Sanju's shooting, Paresh used to take a flight to India to visit the film team. As a note-taking on the movie, the U.S. businessman shared his experience and friendship with Sanjay and their bonds throughout the time in a tweet with two pictures of his letter for his Bollywood friend.
Paresh Ghelani wrote:
"Its been many years of staying away from the social media, i finally give-in to embrace it. as i begin, here to you my brother @duttsanjay a note that i have been writing in my head and heart for a very long time and now here it is all in the open." Like an orbit of this twisted life, Sanjay Dutt best friend has come to the actor's world as an angel with the helping wings. For both of them, friendship is such a kind of holy spirit that they have mastered and now embraces in their 'those days'.
To read inspiring stories like this, visit Bollywood news on Starbiz.com daily!
>>> Similar posts you may check: