Most Searched Bengali Actress List Ruling The Industry With Beauty And Talent
Salena Harshini |Feb 28, 2020
These actresses are the most stunning ladies of the Bengali film industry and they have made sure to steal hearts with their grace and talents. Check our list of most searched Bengali actresses in recent years!
Bengali films have witnessed the rise of talented stars such as Bengali actress Aditi Chatterjee or Paoli Dam along with veteran names like Bengali actress Mithu Mukherjee.
When it comes to beauty and grace of actresses, we have to say that every starlet from any region is absolutely beautiful and Bengali serial actresses are also breathtaking to watch. The actresses are well-known for their undeniable beauty and this is a certified fact across the globe. Below is the collection of most searched Bengali actress photo with name that you surely fall in love with.
We also get you some basic information along these Bengali actress Instagram in case you want to follow them on social media.
Most Searched Bengali Serial Actress [Name, Photo, Info & Instagram]
These Bengali actresses are famous for their beauty and talents. Their names are listed in random order as below.
1. Srabanti Chatterjee
Bengali actress Srabanti Chatterjee is the first name in our list of hottest actresses in the Bengali language film industry. Born on August 19, 1987, Srabanti Chatterjee is 33 years old (as in 2020).
She debuted as a child actor in the 1997 movie Mayar Badhon. After that, she has partaken in a lot of television films including Chhadmabeshi, Bhalobasa Bhalobasa, and Champion in which she rose with a major role. She recently tied the knot with her third husband Roshan Sinha in April 2019.
For more updates on the actress, follow Srabanti Chatterjee Instagram here: srabanti.smile
2. Swastika Mukherjee
Swastika Mukherjee is Santu Mukhopadhyay's daughter and the actress's first on-screen appearance was TV serial Devdasi. She made her film debut in Hemante Pakhi (2001).
One of the hottest Bengali actress is a lady who is not afraid of showing herself all naked in front of the camera. Swastika has a belief that women's beauty should be shown to others. Basically, Mukherjee is infamous for her physique show and her sarcastic tongue.
Swastika Mukherjee Instagram account is swastikamukherjee13.
3. Pauli Dam
Pauli Dam, also known as Paolo, is a popular Bengali actress who is best known for her bold appearances in movies.
Born on October 4, 1980, the now 40-year-old actress has acted in many recent films such as Sanjhbati, Love Aaj Kal Porshu, Baga Beach and more. As soon as Chatrak was released, Paoli received backlashes for exposing her whole body and bare postures throughout the film which was unsupportable in Bengali culture. Her fans were slammed for idealizing Paoli Dam but on another hand, many lauded the actress for her courage.
Check out the popular Bengali actress Instagram account here: paoli_dam. 
4. Koel Mallick
Bengali actress Koyel Mallick is the famous Bengali actor Ranjit Mallick's daughter. She has been seen in the same movie with her dad a lot of times. She has acted in the skin of versatile roles from a housewife to a reporter. The actress is now in a happy marriage with her husband. Born on April 28, 1982, Koel Mallick age now is 38. Koyel Mallick won the Star Jalsha Best Actress Award for her movie Dui Prithibi.
Follow her latest updates at yourkoel.
5. Raima Sen
The next lady in our list of hottest Bengali serial actress is Raima Sen whose age is now 41. She looks like she hasn't aged at all even in her 40s.
Raima Sen is Bengali actress Moon Moon Sen's elder daughter and she is a member of the Tripura royal family. The actress is an adored actress of Bengali language movie industry and is known for projects such as Baishe Srabon, Honeymoon Travels Pvt and The Japanese Wife.
Check out Rima Sen Instagram at raimasen 
6. Mimi Chakraborty
Mimi Chakraborty is renowned for her work in Bojhena Shey Bojhena alongside Sohom, Abir. Mimi Chakraborty age is now 30 and she was ranked among the list of Most Desirable Women in 2016 by Calcutta Times.
>>> See her inspiring ethnic style here: 5 Times Mimi Chakraborty Proves That She Is The New Queen Of Indian Ethnic Wear In 2019, the actress joined politics and is now a part of the Parliament in the 17th Lok Sabha from Jadavpur constituency.
Mimi is a little tomboyish but the netizens love the actress for her modesty.
If you want to follow her for her latest updates, check it out: mimichakraborty 
7. Parno Mittra
The 30-year-old actress always takes on strong characters on the screen. People say that she is wise in choosing her films and that's why she has the opportunity to showcase herself as a tough one. Parno Mittra's first movie was Anjan Dutta directed Ranjana Ami ar ashbona. The beautiful actress and her two co-starlets in Ami ar Amar Girlfriends got on the table of the town after the movie came on floors. She has also done plenty of TV soaps before venturing into movies.
Take a look at her Instagram account: parnomittra
8. Nusrat Jahan
Nusrat Jahan Ruhi is one of the most desirable Indian actresses and this was proved in the list of Calcutatime in 2019. Nusrat Jahan age, for the unversed, is 30 now. The actress predominantly works in the Bengali cinema and then in 2019, she joined active politics contended as a Trinamool Congress candidate from Basirhat. Her screen debut was in Shotru, a directorial of Raj Chakraborty. The other notable films of hers include Sondhe Namar Agey and Khiladi.
For more updates of the talented lady, follow Nusrat Jahan Instagram: nusratchirps.
9. Riya Sen
So the Sen siblings both made it into the list. Riya Sen is Moonmoon Sen's younger daughter and Raima Sen's younger sister. Her mother is the queen of Koochbehar's daughter-in-law. Grandmother of Riya, Mrs. Suchitra Sen was a really extremely famous starlet of Bengali movies.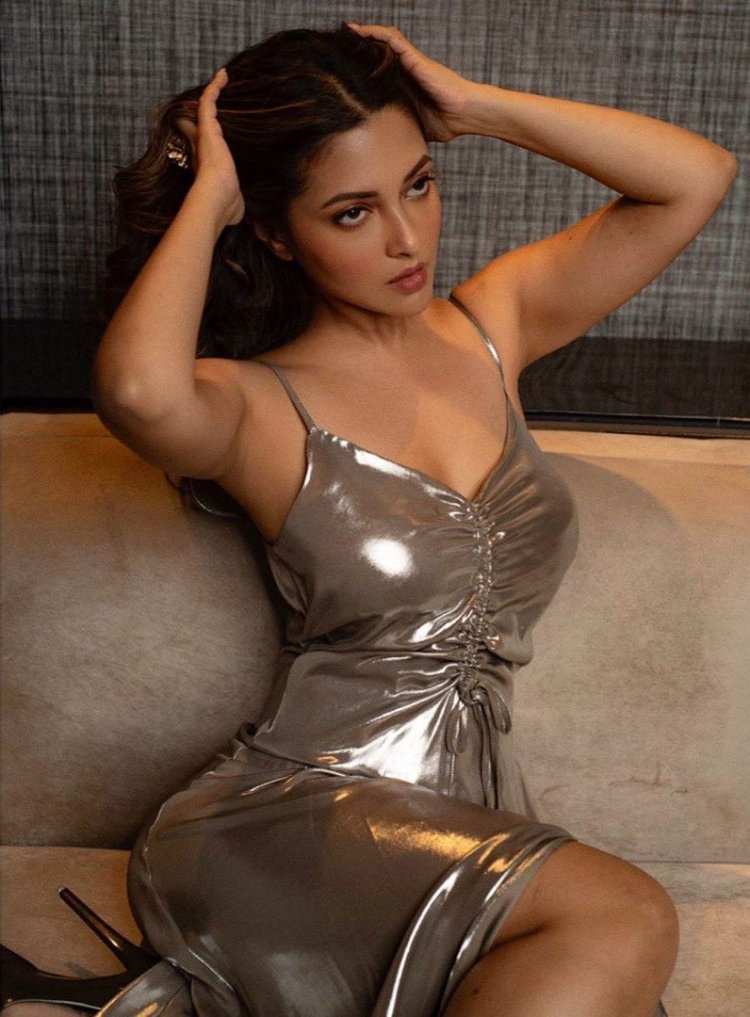 For those who have not known, Riya has tried her luck in Bollywood but did not manage to take the spotlight. After so much struggle, Bengali filmmaker Rituparno Ghosh cast Riya Sen in a lot of films and she performed really well in them. Especially, her performance in Noukadubi alongside Jishu Sengupta was highly appreciated.
Check out Riya Sen Instagram at riyasendv
10. Bipasha Basu
The Bengali serial actress that always rank in top list is Bipasha Basu. Bipasha Basu age is 41 now yet she is still considered one of the most sizzling actresses.
She, also known as Bipasha Basu Singh Grover, is famous as a gorgeous model and actress. Besides Bengali films, she is mostly renowned for her parts in Bollywood movies. Basu has also received quite a number of accolades. In her early life, the actress used to be in a relationship with John Abraham and Dino Morea. But in the end, she fell in love and got married to Karan Singh Grover and they make such a perfect couple.
Bipasha Basu Instagram is bipashabasu and you can check out her posts there.
Our top 10 hottest Bengali actress is full of ladies who are adored for their beauty and talent. They are the epitome for independent and strong women who can cast a spell on everyone knowing about them.
>>> You may be interested in: Bipasha Basu Is Always A Bikini Bella And Bikini Throwback Pics From Her Modelling Days Are Proof
11. Ritabhari Chakraborty
The next name in this Bengali actress list is Ritabhari Chakraborty who seems to be more successful in modeling career path.
Ritabhari is daughter of famous Bengali figure Satarupa Sanyal but she is not lucky in the film industry. Ritabhari debuted in Ogo Bodhu Sundori and have participated in several projects such as Colkatay Columbus, Bawal or Chotushkone. She even attempted to star in Bollywood film Pari as well as some Hindi short movies. However, most of the times people know Ritabhari in terms of her sexy figure as a model. In fact, this Bengali actress is listed in Top 50 most desirable women in India in 2019.
To update her latest post on Instagram, you can follow Ritabhari here.
12. Sayantika Banerjee
Bengali actress Sayantika Banerjee was born in Kolkata, West Bengal. She is famous for impressive dancing and acting skills, especially when she starred in Awara, the Bengali hit in 2012.
Sayantika first appeared in reality show Naach Doom Macha Ley before joining the movie industry with Target or Hangover. However, her intial steps in these Bengali films didn't bring positive results. Since the success of Awara, Sayantika has been offered more projects till date, among which Shesh Theke Shuru 2019 is the latest.
During a decade working in the entertainment industry, Sayantika has gained several Bengal Youth Awards in 2012, 2013 and 2018. With her sharpened skills and figure, we believe this girl will obtain more remarkable achievements in the Bengali film industry.
Here is the link to Sayantika Banerjee Instagram account.
13. Aditi Chatterjee
Aditi Chatterjee is another popular name on Bengali television but seems unknown to Bollywood fans.
She was first recognized in Checkmate in 2012, then featured in Goyenda Ginni (2015) and Debipaksha (2017). Besides those movies, the beautiful Bengal actress Aditi Chatterjee is also appearing in Nandini.
14. Payel Chakraborty
Another Bengali actress that is much searched for is Payel Chakraborty who was found dead in 2018.
The 38-year-old actress had taken part in numerous Bengali TV serials and web series like Chokher Tara Tui or Goenda Ginni. Payel just moved to film industry a short time before committing suicide. According to reports, Payel Chakraborty checked into the hotel in Siliguri, West Begal. When she failed to check out, hotel staff broke into her room because there was no response.
The mother of one was found hanging in the locked room. All her co-stars and other Bengali actors were shocked at the news.
15. Mithu Mukherjee
The last name to be mentioned in this list of most searched Bengali actresses is Mithu Mukherjee, who first appeared in Bengali film Shesh Parba in 1972.
Mithu Mukherjee was born on June 19, 1955, which means she is already 65 years old now. She had considerable contributions to Bengali cinema with a number of famous works such as Marjina Abdulla (1973), Nishikanya (1973), Swayamsiddha (1975), Hotel Snow Fox (1976) or Sandhi (1980). Mithu's last film ending 18 years active in the industry was Ashrista in 1990, directed by Chandra Barot.
Above is the most searched Bengali actress list collected by Starbiz.com. Should you want to add more, please leave your comments in the box.
Meanwhile, don't forget to update latest news on Regional movies on our website!