First Date: 5 Red Flags You Should Have An Eye For Before Building Deeper Connection
Ariana Linh |Sep 26, 2019
Starting a new romance can be exhilarating. But if your gut has something off-putting to say about the new boyfriend, maybe there's something weird going on. Look out for these concerning red flags we bring you in this article.
Starting a new romance can be exhilarating. No matter how many times you've experienced it, your first date of a new relationship can bring forth a lot of emotions. However, sometimes, you have to ignore your thudding heart and listen to your gut. If there's a weird hunch about the new boyfriend, maybe there's something wrong going on.
Online dating is now a regular part of our social lives, and you're likely to run into a few freaky fish before you find a good catch. So, how do you protect yourself or a loved one from the dangers of meeting strangers for the first time? Look out for these concerning red flags in this article.
1. Your date tends towards overly aggression and negativity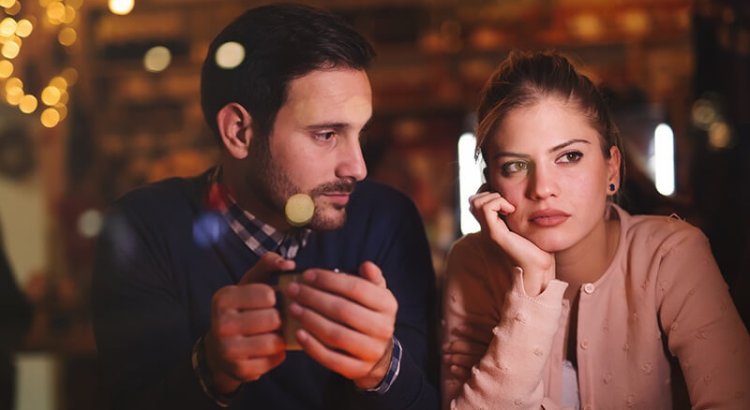 According to online dating expert Julie Spira, you should immediately stop talking with the new partner if they make you feel bad or uncomfortable about yourself. It means either they act aggressively towards others or their choice of words towards you are negative.
These can range from continually asking questions about your life without disclosing any of themselves, to comparing your appearance IRL versus online. Spira says such behaviors are entirely red flags; and the sooner you end things with them, the better.
2. The conversation gets steamy too quickly Sex is inevitable in any relationship. But for a newly developed one, it's up to each individual's preference whether or not they are ready, either to talk about or to do it.
It's best to tell your partner straight away about these kinds of the topic; however, if they insist on it without your readiness, this can be a cause of concern. Regarding this problem, if your goal is not to hookup, Spira advises you to turn these offers down and find someone else. No means, no!
3. He can't keep his hands off the alcohol As we've said, first dates can be emotional. So a little t drink to stiffen the nerves is normal and healthy. That being said, if he shows you a plan reeking of alcohol, it can be an issue. Worse still, he shows up sober but orders an excessive amount of wine/beer/shots.
Spira suggests always bringing your ride to dates, and not taking more than one alcoholic beverage. Also, both of you might not be able to control yourself when the night starts to get steamy. Thus, always keep in mind the number of glasses each of you has had.
4. Your date is excessively getting attached without getting to know you first A little romance goes a long way, and everyone likes the feeling of being unique. However, if someone is going overboard for the first time they meet you while knowing next-to-nothing about you, something is entirely off.
The most common empty promise, and most prominent alert signal, you would hear is, "I've never felt this way before." As soon as you understand this, Spira explains, this means he's moving way too fast, while also exhibiting possessive tendencies. Both are bad for relationships.
5. Is this a dinner or an interrogation? One surefire way to ruin a first date is to dominate the conversation, especially by asking, no, interrogating a love interest. Although honesty is a must-have in relationships, you are not obligated to answer anything regarding your personal life, such as your address, and company in the first meeting.
If you're with someone who insists on asking about your personal life, don't hesitate to show your feeling of being uncomfortable as sharing that information just yet.