Use Apple Cider Vinegar For Melasma – Benefits & Special Notes
Ankita Chetana |Feb 19, 2020
We all know the great virtues of apple cider vinegar but have you ever heard about the use of apple cider vinegar for melasma? This article will help you know what's it for and how to use it in the right way to treat melisma.
Using apple cider vinegar for melasma sufferers is really useful whether you drink it or apply it on your face. No matter how you use it for your face, this recipe is truly a pack of health benefits for melasma. When it becomes a toner, apple cider vinegar can soothe the minor elements on your skin.
1. Recipes of apple cider vinegar for melasma
The containing of acetic acid in apple cider vinegar aims at bleaching the dark sides. Thereby, apple cider vinegar helps to remove hyperpigmentation and spots on your face. This also means your skin will get more glowing and radiant.
So, how to create a perfect recipe for apple cider vinegar for skin melasma? Check these simple directions below!
Make natural toner with apple cider vinegar Several ladies have made this magical product a toner to apply on the face. The results prove the effects of apple cider vinegar for face pigmentation of the skin. As the natural exfoliant of acetic acid works to remove the dark parts of the skin, it will also renew the cells. To create this beneficial toner, mix equal ratio of apple cider vinegar with water and dip a cotton pad into it. After that, rinse your face with lukewarm water as usual and apply moisturizer.
Drink the mixture of apple cider vinegar Melasma would fade out when apple cider vinegar enters your body. Mix a teaspoon of raw apple cider vinegar with a glass of water and drink it every day.
Apple cider vinegar bone broth If you still fear of acid level in apple cider vinegar on your skin or stomach, a bone broth would be the best option. You can use ¼ cup of apple cider vinegar to put on the bone broth and consume it.
Causes of melasma on face
You might be confused about the reason leading to melasma on your face. Let us explain, darker-skinned people are more at risk of getting melasma than the fair-skinned ones. No obvious causes of melasma were found but most of the cases show that changes in estrogen and progesterone can trigger this case. Since then, we can understand what factors lead to melasma as below:
Pregnancy/birth control pills/hormonal therapies
Pressure or thyroid diseases
Ultraviolet rays in the Sun
Irritation from using unsuitable skincare products
2. Apple cider vinegar for melasma reviews
Unsure about using apple cider vinegar to treat melasma, we understand it so this section is to help you understand more about the usage and effects depending on each person.
Before and after review
It takes time for you to complete a process of long-term beauty and so does melasma treatment. The dark skin makes us depressed and unconfident to face other people. However, you need to know that we need time to deal with it and overcome it in many ways, even apple cider vinegar. Check out some reviews from those who have cured melasma by applying apple cider vinegar. For the first two days, you will see the effects of applying this manner close to what you expect. Nonetheless, a week later, there won't be lots of changes or you even don't see anything fade out. But don't give up, try to keep the process longer and enjoy the visible change. Three weeks or more, all you need is a face with light melasma so be patient in implementing this way.
Here are some pictures as proofs from women using apple cider vinegar for hyperpigmentation and melasma. It's your turn now!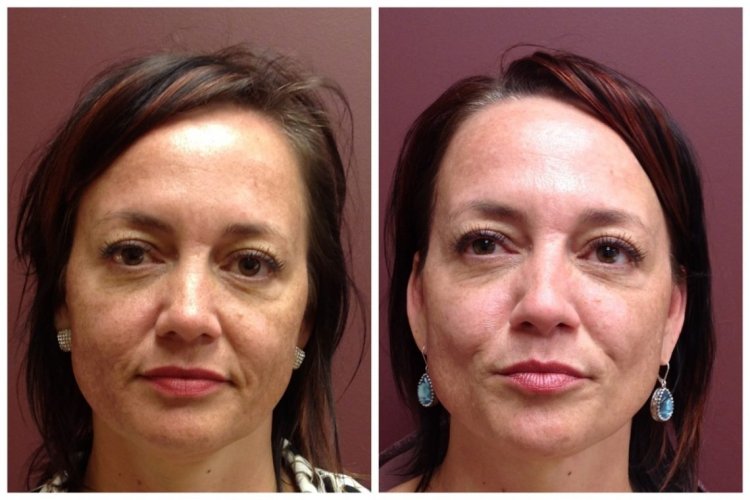 Notes on applying apple cider vinegar during pregnancy
In general, pregnant women are advised to be careful with unpasteurized products. In fact, there hasn't been any research showing whether apple cider vinegar is safe or not for women in pregnancy. Since pregnant women's skin and immune systems are more sensitive and compromised that they get higher risks of infection and illness. According to some studies, acetic acid in apple cider vinegar is considered as a kind of beneficial bacteria – antimicrobial. But this vinegar also contains a certain amount of harmful pathogens which can cause miscarriage or stillbirth. Pregnant women should ask doctors' advice before using apple cider vinegar.
If needed, you can replace with pasteurized apple cider vinegar which maybe sort of some other health benefits such as probiotic. But remember that this kind doesn't carry any potential risk of bearing your baby.
Or else, applying apple cider vinegar on the face to treat melasma is safer. The ratio between apple cider vinegar and water should be 1:3. Then lightly dip a cotton pad into the mixture and apply on your face then leave it for 5 minutes. After that, rinse with lukewarm water.
3. Benefits of apple cider vinegar for face & home remedies
Apart from treating pigmentation and melasma, apple cider vinegar is also used as a secret recipe for beauty. Those who have faced skin problems such as acne, spots or other infection also use this method to treat. So, let's find out the other benefits of apple cider vinegar for the face!
Prevent pimples & acne
Struggling against pimples is a never-ending journey but just a little apple cider vinegar can be your solution. Containing antifungal and antibacterial substance, it is a treatment to excess oil and dust as well as killing large pores. How to use:
Mix some drops of raw apple cider vinegar with boiled water
Apply the mixture on the affected areas of your face and leave it for 10 minutes
Cleanse with lukewarm water
Use it for some days until it works
Heal sunburn
Sunburn often discomforts us with the feeling of burning and irritation. Thanks to the soothing use of apple cider vinegar, you can use it to heal the sunburn rapidly. How to use:
Mix the ratio of 1:8 for apple cider vinegar and water
Pour it into a washcloth and apply on the affected skin and massage it
Make a toner
As one of the best toners for oily skin, apple cider vinegar helps to tighten the large pores and increase the flow of blood into the skin. Furthermore, it also works as a remedy of pH level regulation to the skin.
How to use:
Take a cup of water and add a few drops of apple cider vinegar with some essential oil
Apply it on the face and leave it for 5 minutes
Combat wrinkles and aging spots
With the element of alpha hydroxyl acids, apple cider vinegar can stimulate dead skin removal for brighter skin. In addition, it can help to reduce wrinkles and fine lines and get rid of aging spots as well. How to use:
Drop some apple cider vinegar into a cotton pad and directly apply it to the aging spots and wrinkles.
Leave it for half an hour and then rinse with cool water
Repeat daily within at least 6 weeks
To sum up, using apple cider vinegar for melasma is one of the best ways to treat dark areas on your face. But you should be also cautious about acetic acid in this method and avoid the sunshine as much as possible. Remember that any treatment always comes with caring and nutrition, so don't forget your diet of healthy skin.
>>>Some other skincare tips you may want to know: