Fans Concern Hailey Baldwin And Justin Bieber's Marriage Will Be Short-Lived With These Alarming Signs!
Mina Muzumdar |Sep 27, 2019
Despite the fact that Justin Bieber and Hailey Baldwin are heading to the altar in the next few days, these warning signs make fans wonder if their marriage can last for long. Read details!
Despite Hailey Baldwin and Justin Bieber's second wedding are coming close following their first year wedding anniversary, fans are still convinced that the couple might head for a breakup with these warning signs. And here are the reason!
Hailey and Justin's marriage has been up and down, Hailey's sister Alaia revealed
Rumours have been doing around for months that Hailey Baldwin and Justin Bieber's marriage has hit a rough patch and the couple are now in a very emotional stage because of their wedding plan.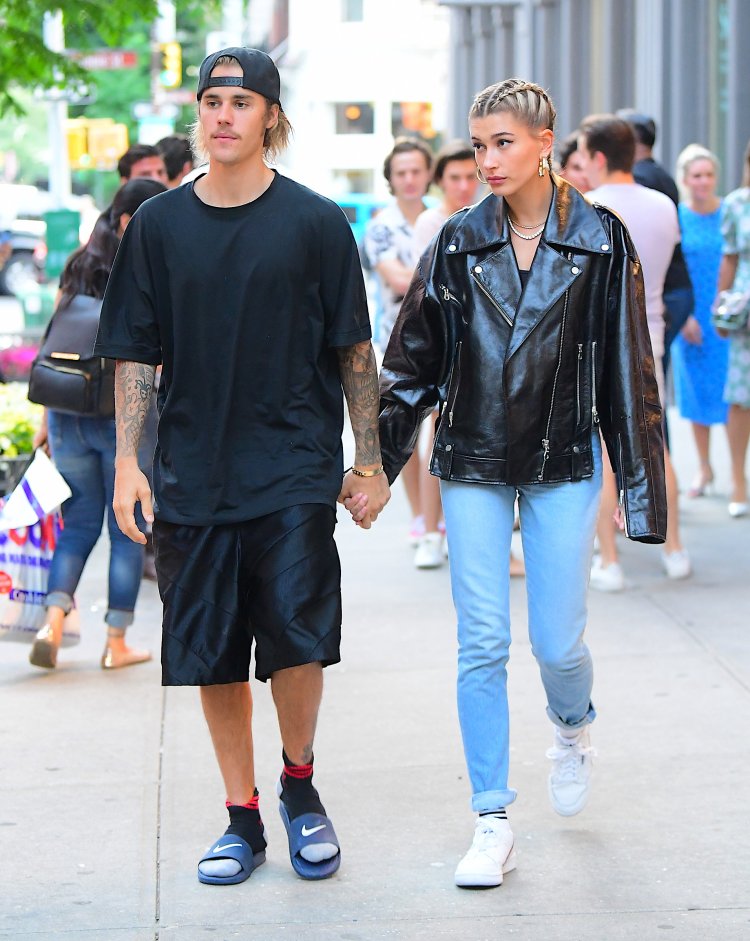 Justin still can't forget his longtime lover Selena Gomez
In May, Hailey Baldwin was spotted appearing at Met Gala 2019 alone without her husband. A close friend of the two then revealed that Justin skipped the grand event because Selena Gomez might attend the fashion event. Furthermore, when the Sorry singer was accused of only getting married to Hailey "to get back" at his ex-lover, Justin once again ascertains for The Same Old Love singer.
This only stoked the fire and set tongues wagging that he would never be able to forget his first love, Selena Gomez. Plus, the singer still keeps in touch with Selena Gomez as he publicly liked a post about the two long time ago. Both Justin Bieber and Hailey Baldwin are continuing to deal with mental health
Both Justin Bieber and Hailey Baldwin admitted that they have to deal with certain health problem, especially the Let Me Love You singer was snapped broke down into tear much time in the street. A close friend also revealed that the Canadian singer has been struggling with his personal life which has been thrown into the spotlight since he was too young.
With Justin Bieber confessed he started taking heavy drugs at the age of 19 and still in the recovery process, for now, the couple fans have a reason to be worried about his mental health.
They are both too young to walk down the aisle...
While Justin just turned 25 this March, Hailey Bieber is going to celebrate her 23rd birthday this November.
When being asked about getting married at such a young age, the model couldn't deny it is a 'scary' idea for both. Besides, the couple was also photographed fighting in public not long ago though Hailey affirmed her fans "don't believe what ya read on the internet folks".
The Prenup issue
Everyone knows that Justin Bieber is a world's famous singer with a vast mountain of wealth which is estimated at $265 million while Hailey is reportedly worth around $3 million. Since there is a big gap between their personal wealth, a prenuptial agreement is needed. However, because of their hush-hush wedding back in September last month, the two seems to face a problem with this before the wedding agreement.
According to Us Weekly's source, the singer also had to seek counselling as he got nervous about the lack of a prenup.
They keep postponed their wedding
Because the couple had called off their wedding for numbers of time, until it officially takes place then fans could feel relief about their decision. Nevertheless, whether their marriage is hanging by thread is still a big question as Hailey said she didn't feel peace about that.
Justin is unstable in his marriage Though Justin Bieber is happy and deeply in love with Hailey, an insider let slip that he still feels empty and confused all the time and begging question about his life purpose.
"He is very much grateful for his amazing life and especially for Hailey. It's difficult for him that he can't just enjoy everything and feel happy. He has been in treatment for this before." Hailey and Justin got married because of sex?
In a candid interview with Vogue, it's Justin Bieber himself admitted he wait until the wedding to have sex with his wife, and that what prompted them to their quick wedding at New York courthouse.
"When I saw her last June, I just forgot how much I loved her and how much I missed her and how much of a positive impact she made on my life," Justin Bieber tolld Vogue before saying he had a "legitimate problem with sex".
Though there are signs which suggest that Justin Bieber and Hailey Baldwin still have to work out a lot on their relationship, let's wish a lifetime of love and happiness for the couple ahead of their big day.
Justin Bieber and Hailey Baldwin wedding are taking place this 30 September 2019.