Top 10 Most Viewed Videos On Youtube: Number 2 Is What You Never Expected
Salena Harshini |Jun 09, 2020
While Gangnam Style still remains its spot in the list, some of the new members of the most-watched video list would surprise you with their power.
The most viewed video on Youtube now shares very little similarity with those that went viral in the past. Although videos like Chocolate Rain and Charlie Bit My Finger easily went famous in the first few years Youtube was created, kid-friendly content along with videos of famous musicians such as Ed Sheeran have claimed the crown.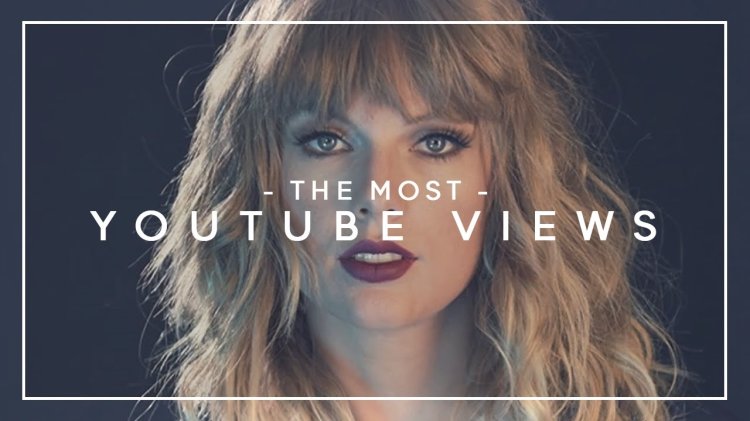 Music videos have emerged to be extremely successful as they take the most part of the top popular Youtube videos of all time.
Without further ado, take a look at the 10 most viewed videos in Youtube's history.
10. Sorry – Justin Bieber (3.29 billion views)
Instead of this song, the singer actually entered the club of billion views with his Baby music video. However, Sorry is the most mainstream video of Justin Bieber so far with over 3 billion views as of late.
For the unversed, Sorry is the 22nd video to pass the mark of billion views but then soon proved its power by collecting 2 billion in no time and then reached the 3 billion mark without no hassle.
9. Johny Johny Yes Papa - LooLoo Kids (3.39 billion views)
Although it did take a while, this video for kids has earned itself a spot in the top of most viewed video on Youtube. Johny Johny Yes Papa is a short animated MV about a playful baby trying to eat sugar even though his Papa does not approve.
The song is played in almost every house that has a kid. It is quite addictive to kids considering its viewed has surpassed 3 billion views since quite a long time ago.
8. Learning Colors Multi-Colored Eggs on the Farm - Miroshka TV (3.39 billion)
Educational entertainment for kids is rising stronger than ever as quite a number of the genre has taken over the list. It is actually not surprising as children are going to be gorging at the screens for a great deal of time in the day. Learning Colors Multi-Colored Eggs on the Farm of Miroshka TV is an example of this virality as it has garnered more than 3 billion views within two years of its release.
The 5-minute video teaches kids about different colors though simply animated eggs on a farm. The vid is actually narrated in Russian and the music is the only part that is in English.
7. Gangnam Style - PSY (3.65 billion)
This is one of the most iconic videos of a K-Pop artist. PSY's Gangnam Style is pretty much the music video that launched Korean music to the world and the monster hit was the first-ever video on Youtube that collected over a billion views. More interestingly, the video itself reached the mark in only less than 6 months since the release. In the time of 2012, its achievement was unprecedented.
Gangnam Style still remains among the most viewed video on Youtube of all time, defeating many younger competitors after 8 years of the explosive debut.
6. Uptown Funk - Mark Ronson ft. Bruno Mars (3.86 billion)
Despite being older than the top three of this list, the Bruno Mars song still keeps on attracting new viewers and keeps on being a chart-topping threat.
The video was introduced to the world in November 2014 and quickly rose as one of the most well-liked and well-known videos ever.
5. Recipe for Disaster - Masha and the Bear (4.28 billion)
This video is an episode of the Russian CGI-animated television series for kids, Masha and the Bear. Recipe for Disaster is one of the two entries which are not music videos and one of the four not completely in English.
The show is very famous even outside the home country and is also streamed on NBCUniversal and Netflix in the format of collective episodes. A lot of other episodes also garner flabbergasting view counts on Youtube.
4. See You Again - Wiz Khalifa ft. Charlie Puth (4.58 billion)
This track is the top 10's first video to have a film tie-in – Furious 7 – to support its promotion. See You Again managed to have over 4 million views and functions as a tribute to late actor Paul Walker.
Between 10 July and 4 August 2017, it dethroned Gangnam Style to be the most viewed Youtube video. However, Despacito then took over its title. People literally heard this song playing everywhere they went as it was a huge hit after its release.
Its power is proved as the music video is one of the five that crossed 4 billion Youtube views.
3. Shape of You - Ed Sheeran (4.82 billion)
It is undeniable that Shape of You is named in the top most viewed video on Youtube of all time. It also emerges as the third-fastest video to earn one billion views and is the second rank among those that reached the 2 and 3 billion views the most quickly.
The song of Ed Sheeran collected this impressive view count number in only two years after its debut in January 2017.
2. Baby Shark Dance - Pinkfong (5.60 billion)
Sometimes a song gets to be famous simply because it is ear-catching. We have seen many such examples in the past so it is beyond any doubt that the same happened to the super catchy kid song about a family of sharks.
Baby Shark Dance is not a complicated song at all as it has sharks, repetition and quite an amount of dread. In spite of that, it rose to be the newest name on the most-watched Youtube videos list and inspire many other variations on the platform.
The truth is Baby Shark is too famous now and almost every parent would replay it 15 times in a row to calm their toddler. Therefore, the meteoric rise of this kid song is expected to continue.
1. Despacito - Luis Fonsi ft. Daddy Yankee (6.80 billion)
For a platform run by an American owner and dominated by English-language content, it may be a surprise to see that the showstopper of the most viewed videos on Youtube is crooned almost entirely in Spanish. Also, it does not show any sign of getting eclipsed anytime soon.
Featuring Daddy Yankee and Luis Fonsi – two Puerto Rico artists, Despacito was uploaded on YouTube in early 2017 and scored over 1 billion views within only 97 days, making it the second-fastest run ever seen.
The song kept on growing and became the fastest Youtube video to earn 2 billion views and the very first to surpass 4 billion, then 5 billion, and now 6.8 billion views.
Will there be any video to take the first place of Despacitoto tobe the most viewed video on Youtube? We will have to wait and see.
>>> Related post: Don't Live Under A Rock, Here Are 10 Most-liked TikTok Videos