"Super 30" Review: A Richly Rewarding Film Powered By An Extraordinary Performance From Hrithik Roshan
Mohnish Singh |Jul 11, 2019
"Super 30" stars Hrithik Roshan in the role of noted mathematician Anand Kumar, known for his Super 30 program for IIT aspirants. Read the review only on STARBIZ.
With Super 30, superstar Hrithik Roshan returns to grace the silver screen after a gap of 2.5 years. Helmed by Queen fame Vikas Bahl, the biographical drama is based on the life of award-winning mathematician Anand Kumar.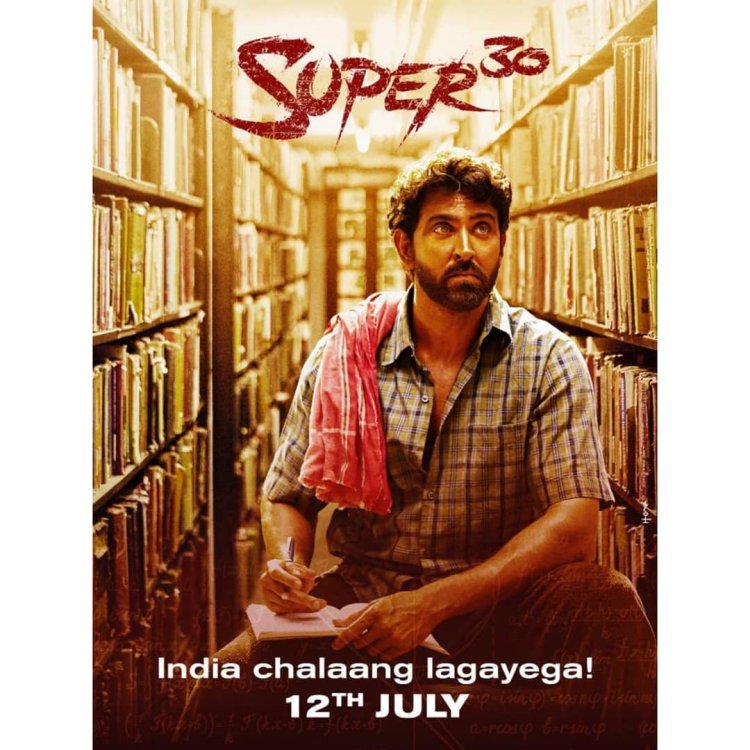 Super 30 is one of the hugely anticipated films of the year for a variety of reasons. First, it tells the inspiring story of renowned mathematician Anand Kumar who braved all odds to ensure that 30 talented underprivileged kids tangled in the web of broken dreams and poverty reach the IIT, one of the premier institutes in India. His Super 30 program still continues shaping the future of several underprivileged but deserving candidates.
Second, it brings superstar Hrithik Roshan on to the silver screen after a huge gap of 2.5 years. He was last seen in his home production Kaabil in January 2017. I happened to watch the much-awaited movie at a special media screening held yesterday and here is what I feel about it.
What Is Super 30 All About? As the name aptly reveals, Super 30 concentrates on noted mathematician Anand Kumar and how he faced every challenge that life threw at him and emerged victoriously. Anand Kumar (Hrithik Roshan) is one of the brightest brains in Patna.
Freshly graduated from college with dreams of a promising future ahead, he wants to study abroad, get a suitable job and break free from the shackles of poverty. He even secures admission to Cambridge University, but financial constraints and the sudden demise of his father compelled him to crush his dreams of studying abroad. He starts selling papads to earn his livelihood. Soon a local coaching owner (Aditya Srivastava) offers him a teaching job at his upmarket coaching center which charges a hefty amount from students dreaming to get into the IIT.
It does not take much time for Anand Kumar to realizes that downtrodden children need him more than those kids who think they can buy knowledge with their parents' money. Kumar sets up his own coaching center and starts coaching 30 talented underprivileged kids for IIT-JEE, the entrance examination for the Indian Institutes of Technology. How he manages to save his center from the coaching mafia and lend every possible support to his kids, fighting against all odds, is what forms the crux of Super 30.
What's Hot?
Making a film on a person who is not universally known is not an easy job, but thanks to the makers of Super 30 who did not only invest in such an inspiring story but also ensured that it gets the kind of treatment and richness it deserves. There is not a single department where, as an audience, you feel that the makers have compromised and that is the best thing about this biographical drama. Every once in a while, a movie comes out of nowhere and blow your mind, Super 30 is that film for the year 2019. Talking about performances, Hrithik Roshan as Anand Kumar is perfect and, also, every bit convincing. Roshan is known as the Greek God of Bollywood who has predominantly starred in chocolate boy and action roles. He has never done before a film where he had to put his star image wholly aside and slid into the skin of a character which does not belong to his world at all. Kudos to the superstar for trying something new and nailing it! He pulls his character off with aplomb.
Besides Hrithik Roshan, other artists that stand out in the film are Pankaj Tripathi and Aditya Srivastava. In every scene that Tripathi features in, he steals the limelight from his co-actor and that includes Hrithik Roshan also. He does not have much screen time, but whenever he appears in the film, he lights up your mood with his impressing act. Aditya Srivastava as local coaching owner looks convincing. Mrunal Thakur, who plays Roshan's love interest, makes her presence felt despite having very limited screen time. Director Vikas Bahl, who rose to fame after headlining the Kangana Ranaut starrer Queen (2014), shows his directorial capabilities once again. His last directorial Shaandaar (2016) was in a big disaster, but Super 30 is sure to make people forget the flak that he received for his 2016 film. Background music by Ajay-Atul is one of the major highlights of the film.
What's Not? Though Anand Kumar's story is undoubtedly fascinating, and Hrithik Roshan's performance exceeds expectations, Super 30 is not flawless just like any other film. The first half of the movie is very strong and on point. It builds huge anticipation for what is coming next. However, as the second half rolls, it feels like the film forgets its singular aim and is trying to focus on too many issues which do not add much to the narrative. But just as your interest level start dipping in the film, Vikas Bahl gets it on track once again. Having said that, the second half indeed needed better editing.
Final Verdict
Super 30 is undoubtedly a must watch that you can enjoy with your friends and family. There is food for thought and food for every kind of feeling in this Hrithik Roshan starrer. It is worthwhile because it has its heart in the right place, because it tells a true story that is every bit inspiring and worth telling, and because Hrithik Roshan has delivered one of his career's best performances in years. I am going with 4 stars.
Movie Credits
Banner: Nadiadwala Grandson Entertainment, Reliance Entertainment, Phantom Films, HRX Films
Director: Vikas Bahl
Cast: Hrithik Roshan, Mrunal Thakur, Pankaj Tripathi
Music: Ajay-Atul
Runtime: 154 Minutes
STARBIZ Rating: 4 Stars
>>> See more: Hrithik Roshan's "Super 30" Full Movie Download Is Available Now!