Shahid Kapoor And Kareena Kapoor Movies, Love Story And Songs
Salena Harshini |Jul 18, 2020
Shahid Kapoor and Kareena Kapoor used to be one of the "it" couples of Bollywood in the early 2000s. Check out their movies, relationship and more here.
Shahid Kapoor and Kareena Kapoor have time and again left a mark on the audience and critics alike with their stellar acting and onscreen chemistry. As one of the most dynamic onscreen couples of Bollywood, their movies made a big impact on the viewers and we have gathered their collaborations for you to watch in order. Meanwhile, you can also rewind and get to know more about Shahid Kapoor and Kareena Kapoor love story in the past.
Shahid Kapoor and Kareena Kapoor movies
Fida (2004)
Fida marks the first-ever movie in which Shahid and Kareena worked together and also which Kareena portrayed a negative role. The plot focuses on Jai (Shahid Kapoor) who falls for Neha (Kareena) while being unaware the evil side of Vikram, her boyfriend.
36 China Town (2006)
36 China Town focuses on the investigation of a policeman who tries to hunt the murdered of a rich casino owner. The movie is adapted from the 1992 Hollywood movie Once Upon a Crime (is a remake of the 1960 Italian movie Crimen which in turn). The cast includes Kareena Kapoor, Shahid Kapoor, Johnny Lever, Akshaye Khanna with the special cameo of Priyanka Chopra.
Chup Chup Ke (2006)
Chup Chup Ke is an adaptation from the Malayalam movie Punjabi House. The third Shahid Kapoor Kareena Kapoor film is the hysterical story about a man in debt who attempts suicide and pretends to be deaf and speech-impaired after being rescued. Chup Chup Ke, the third flick of the two, also starred Neha Dhupia, Anupam Kher, Suniel Shetty, Shakti Kapoor, and more. The film minted a great amount of earning at the revenues.
Jab We Met (2007)
Imtiaz Ali's romantic comedy is among the most iconic Hindi movies of all time. The film marks the fourth time Shahid Kapoor and Kareena Kapoor shared the same screen space. Jab We Met was a commercial blockbuster and they both received praises for their portrayal. However, during the making of the film, their relationship went to an end after years.
Udta Punjab (2016)
After nine years, Shahid Kapoor and Kareena Kapoor reunited in the film that is based loosely on and revolves around the Punjab youth population's in India and the diverse conspiracies regarding it. Although they did not appear side by side, it was interesting for fans to see the two together again on the promotions.
Shahid Kapoor and Kareena Kapoor love story
While Kareena Kapoor added the Khan surname to her name after exchanging the vows with Saif Ali Khan in 2012, Shahid Kapoor also broke hearts after announcing he would get married to Mira Rajput.
But before the start of their own "happily ever afters" with their other half, the scintillating chemistry of Shahid Kapoor and Kareena Kapoor on the screens had made fans root for their romance and hoped that they would be husband and wife.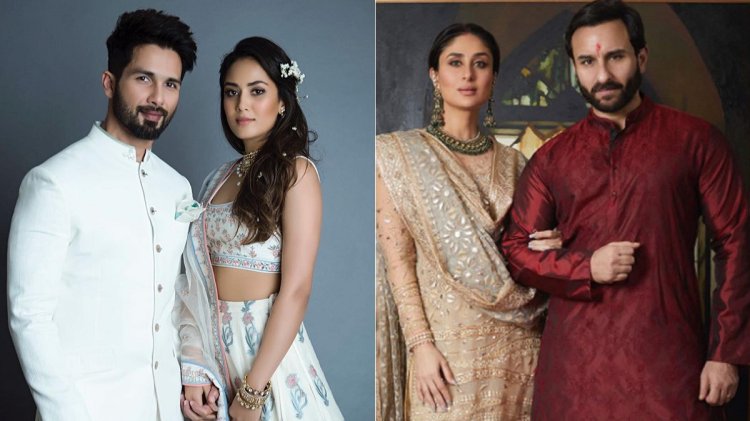 They had hit it off since the first moment seeing each other and they started dating in that very first week. They were all on each other and co-starred in a lot of movies, as you can see.
However, to everyone's sorrow, Shahid Kapoor and Kareena Kapoor broke up in 2006 after a serious and long-time relationship.
A lot of things have been written and said about their breakup. Reportedly, Kareena's mother and sister, Babita and Karisma, weren't very fond of their linkup. Although Shahid Kapoor hails from a filmy lineage, they still felt that the families don't match.
Rumors also had it that Bebo's fondness for Shahid was becoming an obsession as she kept asking all of her directors to cast the two together in movies. Another reason leading to their separation may have come from their different filmy commitments which widened the gap between them.
Kareena Kapoor was filming for Tashan around the release time of Jab We Met. She met Saif Ali Khan on Tashan filming sets and they were reported getting close. Meanwhile, Shahid had some connection with Vidy Balan who he was working with for Kismat Konnection.
Speaking of their separation, Kareena said,
 "Of course, then destiny had its own plan and life took its own course. A lot happened in the making of this film and Tashan and our lives... We all kind of went our separate ways. And this beauty of a movie came out of it." After the breakup, they were only seen in the promos for Udta Punjab. Although they seemed to be uncomfortable in the beginning, they still managed to keep a professional manner at the event.
Truly as it said, all's well that ends and begins well!
Shahid Kapoor and Kareena Kapoor songs
Here are the Shahid Kapoor and Kareena Kapoor songs which have been featured in their mutual movies:
Yeh Ishq Hai
Shahid Kapoor and Kareena Kapoor performed this song for their legendary movie Jab We Met.
Aaya Re
This number is the song for their third movie together, Chup Chup Ke.
Dil Mere Naa
For Fida, the ex-couple was seen in the Dil Mere Naa MV.
24 X 7 I Think of You
And lastly, the song that they sang themselves is 24 X 7 I Think of You for 36 China Town.
The two actors are enjoying their best life with certain success in their job and happy marriages. While Shahid Kapoor has had two beautiful kids Misha and Zain, Kareena Kapoor is also blessed with the cutest munchkin ever, Taimur.
Read more similar articles on Gossip, Starbiz.com!
>> Ekta Kapoor Kunal Kapoor Fact Check: Is Ekta Kapoor Married? Who Is Her Husband?