Bollywood Celebrities Died In 2020: Irrfan Khan, Rishi Kapoor, Sushant Singh Rajput And Others
Bhavna Acharya |Jun 16, 2020
Bollywood celebrities died in 2020 might be the most heart-breaking list to read. We've got enough of losses this year. Hoping that this list will not go on anymore!
2020 is such a harsh year full of upheavals for the world in general and for Bollywood in particular. While the coronavirus outbreak is still taking the toll of the humans kind, Bollywood has been suffering from unbearable losses as there were so many Bollywood acclaimed actors and celebrities passed away in the first half of 2020.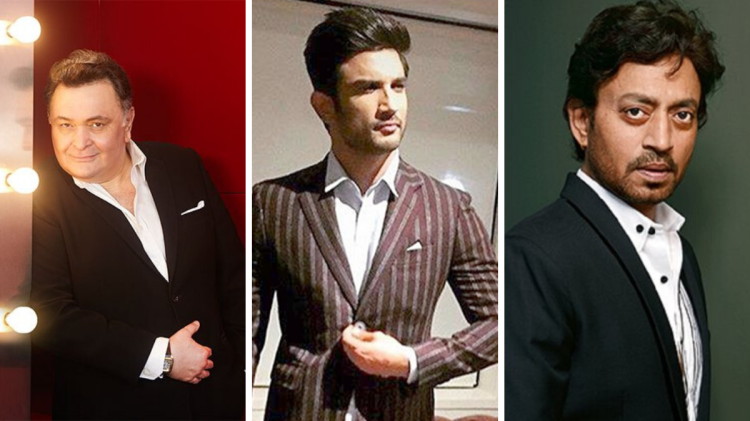 From veteran actors like Rishi Kapoor, Iffran Khan to the young and rising Sushant Singh Rajput, we're mourning the death of several Bollywood stars one after another. Here is the full list of Bollywood celebrities died in 2020:
Nimmi Nawab Banoo, also known as Nimmim, is one of the most reigning Bollywood actresses during the 1950s. Most of her most successful roles are village girls or women in classical movies like Akashdeep, Mere Mehboob, Aam, and many others.
The veteran actress breath her last in a Santacruz on March 23, 2020.
Irrfan Khan After years of fighting against colon infection, veteran actor Irrfan Khan gave up on his life at the age of 53 on April 29, 2020. He was a true gem of the film industry who not only carved out a nice career with Bollywood blockbusters but also went big on Hollywood and British films. The actor is well-known for his films like Hindi Medium, Angerzi Medium, Slumdog Millionaire and Life of Pi.
Also read: SHOCKING - Bollywood Legend Irrfan Khan Dies At 53 From Colon Infection
Rishi Kapoor Just a day after the demise of Irrfan Khan broke over the internet, the B-town was speechless knowing that the acclaimed actor Rishi Kapoor also died from cancer. The actor who went under cancer treatment in the US last year was sent to the hospital again on April 29 as his health condition went worse and breathed his last breath the next morning.
The death of Rishi Kapoor left the film fraternity including superstars like Amitabh Bachchan, Akshay Kumar in shock as they're yet to get over the Irrfan Khan death.
Suggested for you: Bollywood Superstar Rishi Kapoor Passes Away AT 67, B-town On Its Biggest Roller-Coaster Ride
Wajid Khan Despite not being an actor, Wajid Khan, however, played an important role in Bollywood. Being a member of Sajid-Wajid, Wajid Khan was the man behind several movie soundtracks hits especially those in the Dabangg series. In addition to that, the talented music composer was also a good friend of Salman Khan and was in charge of making most of his songs. 
Apart from facing health issues relating to a kidney ailment, Wajid Khan was reportedly contracted with coronavirus. The famous and talented composer passed away in Mumbai hospital on June 8, 2020.
Editor's pick for you: Wajid Khan Mother Tests Positive For Coronavirus, Video Of Him Singing For The Last Time In Hospital Brings Tears To Your Eyes
Basu Chatterjee Earlier this month, the prominent film director and screenwriter Basu Chatterjee died of the health complications relating to his age. The 93-year-old director was one of the most prominent names in the industry during the '80s and '90s of the last century. He was well known for classic movies like Rajnigandha, Choti Si Baat, Ek Ruka Hua Faisla and many others.
Sushant Singh Rajput The latest and most heart-breaking demise belongs to the young and talented actor Sushant Singh Rajput who hung himself to death inside his own room last Sunday, June 14. Although the reason is yet to be unveiled, the actor was said to suffer from depression for a long time. The death of Sushant Singh Rajput stirred up the whole nation and left everyone in shock. 
Meanwhile, there are a lot of speculations and rumors around the untimely death of SSR, while some people said that he was boycotted by other A-listers in the industries, some others believe that it was his tiff with girlfriend Rhea Chakraborty which fueled his regretful decision.
Sushant Singh Rajput made his career debut in 2008 and became a household name in the industry with movies like Kai Po Che or M.S. Dhoni: The Untold Story. He was a talented actor who won Filmfare Award nomination for Best Actor in 2017.  
More details about his death: BREAKING – Bollywood Star Sushant Singh Rajput Commits Suicide At Home In Bandra
Bollywood celebrities died in 2020 might be the most heart-breaking list to read. We've got enough of losses this year. Hoping that this list will not go on anymore!
Stay tuned with Starbiz.com to get more updates about Bollywood and Hollywood news