Madhuri Dixit Hot Photos At The Age Of 53 Make You Look Twice
Hanima Anand |Mar 03, 2020
The veteran Marathi actress will have her 53th birthday this May but Madhuri Dixit hot body and face can trick anyone to think she is just in her 30s. See her burning hot photos here!
Madhuri Dixit was born on May 15, 1967, which means she is already 53 years old in 2020. She is a famous Marathi actress, movie producer and a television celebrity. Despite her age, Madhuri Dixit hot figure and attractive dancing movements are the dreams of many young actresses in the industry. Madhuri was listed among the highest-paid actresses throughout 1980s, 90s to 2000s. She has accumulated herself 6 Filmfare Awards and also honoured Padma Shri by the government of India in 2008. Madhuri Dixit hot face was hunted in countless projects when she was active in the film industry, ranging from action romance, cinema drama, comedy to thriller. Her very first role was the leading female in drama Abodh in 1984. Some movies starring Madhuri Dixit are Tezaab (1988), Tridev (1989), Kishen Kanhaiya (1990), Raja (1995), Dil To Pagal Hai (1997), Dedh Ishqiya (2014), the recent Marathi comedy drama Bucket List (2018) and the latest adventure comedy Total Dhamaal (2019). This woman is also co-founding a production company named RnM Moving Pictures. Besides, she is often invited to stage shows or reality shows in the judge position. Along with the passion for the entertainment industry, Madhuri Dixit is a warm-hearted philanthropist. She works actively with UNICEF to advocate the rights of children as well as to stop child labour in the country. Regarding Madhuri Dixit's family background, she was born into a Marathi Kokanastha Brahmin family in Mumbai. Madhuri has two sisters and one brother.
The actress soon revealed her knack for dancing at the age of three, which encouraged her to pursue Kathak dancing for the next 8 years to become a professional Kathak dancer. Dixit studied Divine Child High School in Andheri, then Sathaya college in Vile Parle, Mumbai. However, after 6 months of college education, she dropped out to follow full time acting career. The turning point in Madhuri Dixit's career is when she played the role of Mohini, a poor woman who has to dance for money in Tezaab. The action romance was the highest grossing film in 1988, turning Madhuri Dixit hot name and brought her the first Filmfare Best Actress Award. Another movie that gained Dixit huge applauses from critics is Khalnayak where she co-starred with big names as Sanjay Dutt and Jackie Shroff. She was praised for her stunning beauty and excellent acting skill that "gives real competition to Sanjay Dutt" – extracted from Planet Bollywood review of the movie. If you are wondering whether this perfect woman is involved in any scandal, yes she has. In 2015, Madhuri Dixit was noticed by Tamil Nadu Consumer's Forum with "false representation" in advertisement of noodle brand Maggi. The actress promotes the safety of product even though the food regulators confirmed the lead amount in the noodle was 17 times higher than the acceptable limit. Maggi noodle was banned after that. Talking about her personal life, with Madhuri Dixit hot profile, there are countless men who want to marry her, even famous people in the entertainment industry. However, Dixit chose to accompany the cardiovascular surgeon Shriram Madhav Nene from Los Angeles. Their marriage took place on October 17, 1999 in Southern California with traditional ceremony. The interesting thing is Nene didn't know Dixit was a popular actress in India then. The Marathi actress said it was important because he would know her as a person first.
After the marriage, Dixit and her husband lived in Denver, Colorado before returning to Mumbai in 2011. Madhuri Dixit had two sons: Arin (2003) and Ryan (2005). The actress often describes her motherhood as "amazing" and always cherishes every moment she has with her children.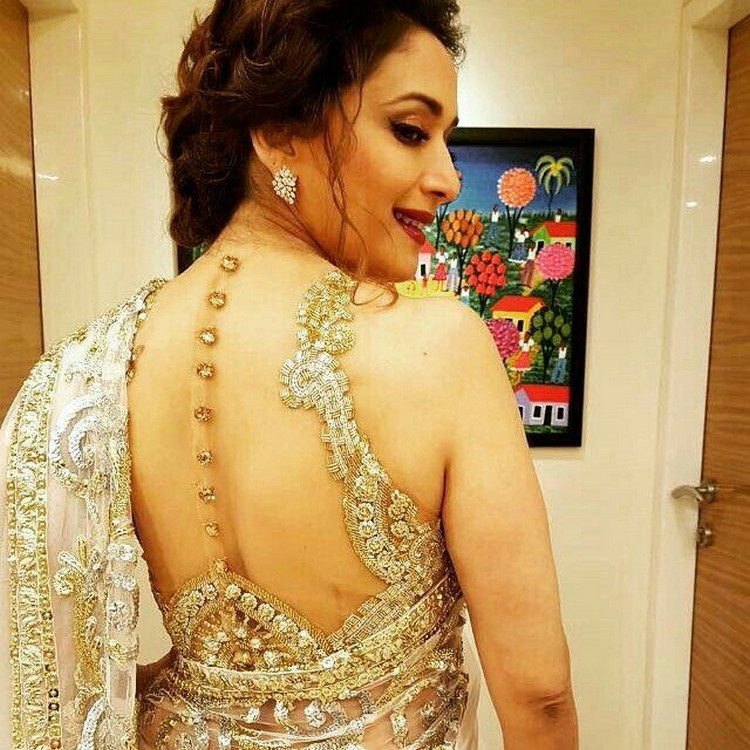 Though she is over 50 years old, Madhuri shows no sign of tiredness when it comes to work. Her appearance doesn't show any sign of aging either. With this sexy body and always fresh face, many younger actresses definitely get jealous with this Marathi legend. Should you meet Dixit in real life, how old will you think she is? Clearly, with Madhuri Dixit hot figure and beautiful face, she could be mistaken with a 30-yr lady. And the hot Marathi actress is still having a lot of plans ahead. Don't forget to update her latest news with Starbiz.com, in Regional Movies section.
>>> Other than Dixit, guess who they are! Top 10 Hot Marathi Actresses Who Rocked Their Bikini Looks