Top 5 Best Films Of Tiger Shroff That Will Surely Do Justice To Your Movie Craze
Aesha |Oct 13, 2019
While the actor is on cloud nine with the success of "War", we shall provide you with 5 vindicated-over-time, best films of Tiger Shroff.
Tiger Shroff is an attractive man that is not only famous for his artsy acting but also for his dedication to action stunts.
Recently, the actor is basking in the initial success of his latest movie with Hrithik Roshan, War. Tiger has gone quite a journey through his film career, and now, we will take a look at his 5 best films. Be it you are new to him or are a Tiger-holic, this list is a compilation AND an ideal suggestion to satisfy your movie hobby.
Heropanti
Director: Sabbir Khan
Box office collection: Rs 72.6 crore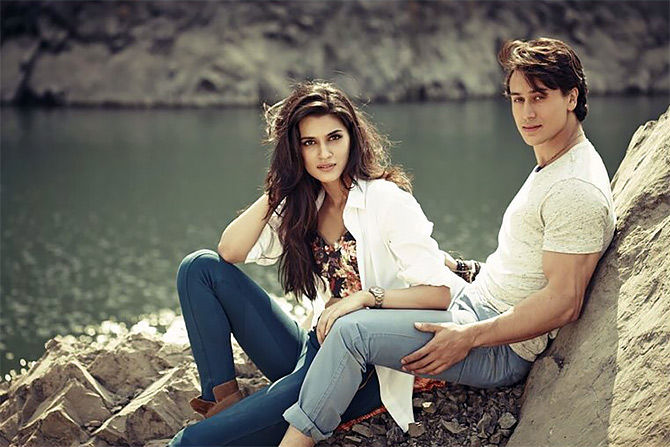 It was five years ago that Tiger Shroff made his Bollywood debut with this film. Heropanti also featured Kriti Sanon and it exhibits the story of two youngsters who find love in spite of the violent place they live in.
He was thought to have a hard time strutting out of Jackie Shroff's shadow as his father was a renowned actor in the industry. Then again, Tiger proved the empathy wrong as he did a great job with his very first film.
Just for the debut movie, Tiger Shroff garnered 14 awards of various award ceremonies, including all major awards. Among the then nominations, he won five awards for Best Male Debut, Most Promising Male Newcomer…
It was not only just awards that he bagged, but it was also the netizen's love that the actor earned.
Student of The Year 2
Director: Punit Malhotra
Box office collection: ₹97.81 crore There is a fact that Tiger Shroff has never been a part of a college or a convocation ceremony. However, the actor had his lost opportunity made up when he partook in this film. "This was my way of making up for not going to college," he shared along with a laugh.
In this wealthy preppy film of filmmaker Punit Malhotra, Tiger Shroff played the lead male.
Movie buffs commented that the actor pretty much carried the movie on his lean shoulders and his endearing boy charm makes it work for the role.
Tiger's strengths were shown with attention and skills be it he was flaunting his dancing skills, running on the tracks, flipping in the air or playing kabaddi.
Baaghi
Director: Sabbir Khan
Box office collection: ₹126.96 crore Baaghi is considered to be among the most practically choreographed action films. That rare film of Bollywood not only showed martial arts battling scenes but does it with confidence, style, authenticity and respect to the revered and ancient art form.
In the first part of Sabbir Khan's trilogy, Tiger Shroff kept on playing to his strength that is be Bruce Lee of Bollywood.
Backflips, flying kicks, punches, splits and gymnastic-like moves, he convincingly shows his fighting skills arrays. It is the perfect choice for hardcore action lovers.
Through this movie, Tiger Shroff has proved to have gradually bettered his acting after Heropanti. Baaghi was a big success in terms of the revenues and also gave Tiger a safe platform.
Baaghi 2
Director: Ahmed Khan
Box office collection: Rs 253.18 crore After Baaghi, Baaghi 2 was deemed as one of the best films of Tiger Shroff. It is the story of a muscle-bound and rebellious man who takes a dangerous mission as his ex-flame comes to him for help.
Talking of performances, Tiger Shroff brought about an outstanding portrayal, entering the intense zone successfully.
It was entertaining for the audiences to watch him manage to look unsettled and quite vulnerable sometimes. As expected, his dance and action make for "paisa vasool" fun.
All in all, Baaghi 2 includes a remarkable action and marvelous performance of Tiger Shroff. Regarding window tickets, the film scored big over the week of release in the mass dominated circles.
War
Director: Siddharth Anand
Box office collection: Rs 249.95 crore (day 10 and still running) The two famous and firm favorite actors of action films, Tiger Shroff and Hrithik Roshan, are at loggerheads in War. The plot surely creates a juicy scenery for fangirls and fanboys of both stars.
After Dhoom 2 of Hrithik and Baaghi 2 of Tiger, War is one decent insertion to their action movie legacy.
Ever since the behind-the-scene pictures and trailer of the film came out, the audience has been looking forward to the release. Eventually, it came as no disappointment at all. Not only earning hearty reviews from critics and fans, but War has also broken quite a lot of records for an Indian film.
Counting to the 10th day of release, War has collected Rs 249.95 crore and the number is still arising. This is the highest-grossing film of Tiger Shroff until now.