Get To Know Zendaya – The Fresh Beauty In Two Most Recent Spider-Man Movies
Hanima Anand |Jul 29, 2020
The 23-year-old actress is a promising name in Hollywood after joining Spider-Man films 2017 and 2019. Zendaya also had a time dating Tom Holland, the lead role in the superhero series.
Zendaya is not a familiar name to many people but she is no longer a newcomer to the Hollywood industry. She has joined the entertainment world since 2009 when she was only 13 years old, and now she is among the most promising Hollywood names under 25 with the appearance in two most recent Spider-Man movies, the 2017 Spider-Man: Homecoming and the latest Spider-Man: Far from Home (2019). About Zendaya career
Zendaya was born on September 1, 1996 in California in the US. She didn't have a typical showbiz family background but showcased early talent for music and acting. At the age of eight, she joined many stage projects at school as well as a dance group specializing in hip-hop and hula dances.
In 2009, Zendaya auditioned for the role of Cece Jones in the Disney's production Shake It Up. She was selected for the role of Rocky Blue though. In 2010, Shake it Up was released, being the second highest-rated premiere on Disney Channel for nearly 3 decades. Zendaya released some music products, including Swag It Out and Watch Me one year later, with the latter peaking at 86th position on Billboard Hot 100. The actress continued her music career with Hollywood Records contract as well as the competition Dancing with the Stars in 2013. She was the youngest participant in the show at that time and won runner-up prize. However, it's not until 2017 that Zendaya is known by the global audience. Spider-Man: Homecoming was her very first feature film debut, earning $880.2 million of grossing worldwide. Film critics praised her for the excellent performance while some even called her a 'scene stealer.'
Her popularity was boosted when she appeared in Bruno Mars' music video Versace on the Floor with a super-sexy figure. She also joined a musical film named The Greatest Showman and was invited as a guest in Project Runway in 2017.
>>> Suggested post: 30 Movies With Scarlett Johansson You Must Not Miss!
In 2019, Zendaya starred in Euphoria, the controversial HBO series that focus on mature matters and sensitive content. However, her biggest role last year was MJ in the superhero film Spider-Man: Far from Home which reached over $1.132 billion of box office collection.
Zendaya and Tom Holland
Since they co-starred in Spider-Man series, Zendaya and Tom Holland have been rumoured to be dating each other. However, they hardly mentioned their relationship with the press.
Everything was just rumours until an Instagram comment confirmed it in September 2018. The revelation was made by Kiya Cole, mother of Disney star Skai Jackson who happens to be a close friend of Zendaya. On an Instagram post, people were discussing the rumoured relationship between Zendaya and Tom Holland then Kiya Cole came in and confirmed their low-key romance. She said they had been on the low for a while. The couple probably dated after working with each other for Spider-Man 2017 movie.
So, who had Zendaya dated before Tom Holland?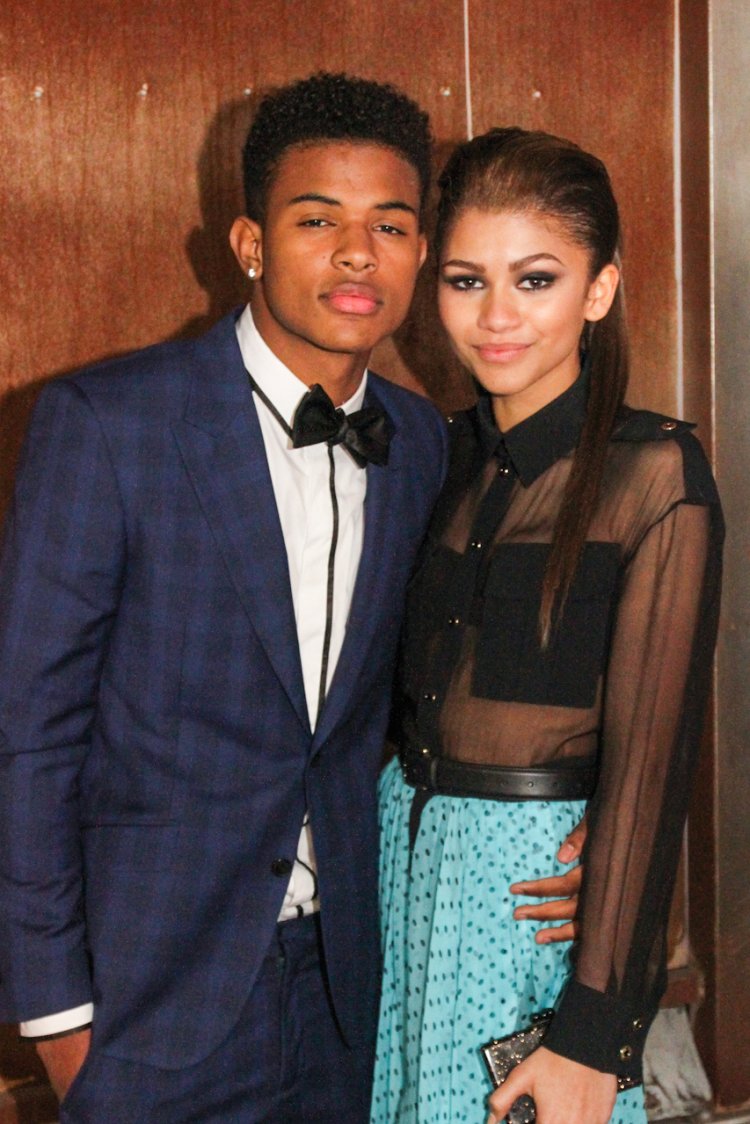 Also revealed by her close friend Skai Jackson, Zendaya had dated several famous names as follow. In 2013, she dated Trevor Jackson after co-starring in his music video Like We Grown. Though the two insisted on being close friends with the press, Zendaya used to share about having a secret boyfriend for 4 years in 2017. She didn't mention Trevor but people could easily guess that's Like We Grown singer. In 2016, Zendaya was again rumoured to be dating Odell Beckham Jr as reporters spotted them leaving a Grammy's afterparty together. However, her father stated that's an audition and it seemed he didn't approve of their relationship. Back to Zendaya and Tom Holland relationship, they were reported to begin dating in the summer of 2017. Though having been confirmed by Skai Jackson's mother, the couple never admitted their romance. Nor the press spotted them out together. Even till now, when being asked about Tom Holland, Zendaya always said he's one of her best friends. All that we can conclude is they have a low-key romance and a peaceful breakup without the disturbance from curious paparazzi.
>>> Editor's pick: Emma Watson Hot Photos | Leaked Photos Of Hermione You've Never Seen Before
Who is Zendaya dating in 2020?
Time passes and the rumors of Zendaya and Tom Holland quickly fades into oblivion. People start questioning who is Zendaya dating now and this time, we got you a proven answer. Remember her HBO series Euphoria in 2019? Yeah, Zendaya is dating her co-star from the series, Jacob Elordi. The two were seen on the same vacation in August 2019 and kissing each other in February 2020. The couple still denied their link-up but everybody knows their story.
Jacob Elordi was born in 1997 which means he is one year younger than Zendaya. The actor came from Queensland, Australia and started acting in 2015. His first Hollywood role was playing extra in Pirates of the Caribbean: Dead Men Tell No Tales. His most famous works include The Kissing Booth and Euphoria series.
Most impressive Zendaya red carpet looks
Zendaya is loved by both audience and film critics for her fresh beauty and natural acting. She also made huge impressions whenever she went to a red carpet event. The actress is seen flaunting her flexible style in different occasions, ranging from stylish short hair to the girly braids. No matter what theme she pursues, Zendaya turns head with her red carpet outfits. However, the most impressive Zendaya red carpet dress is her Cinderella gown with lights up and fairy style at the 2019 Met Gala. Her magical dress wowed all the photographers at the event. It also made headlines for days after the Met. Check the video she puts miracle to her dress below!
With her adorable but professional style, we are totally in love with Zendaya. And we are sure this girl will go really far in her Hollywood career.
>>> Related post: Everything About Sophie Turner – Game Of Thrones Star & Priyanka Chopra's Sister-In-Law