10 Star Kids Who Are Expected To Make Their Bollywood Debut Soon
Salena Harshini |Mar 17, 2020
From Shah Rukh Khan's daughter to Akshay Kumar's son, these 10 star kids are expected to be the next generation of Bollywood.
After Sara Ali Khan and Janhvi Kapoor, another generation of stars are preparing to step foot in the industry and make their presence felt.
In spite of not having graced the screen or had a big break, they have already collected quite many followers on social media and even fan pages dedicated to them.
Take a look at the star kids who are bound to take on their parents' legacy and join Bollywood.
1. Ibrahim Ali Khan
While his sister Sara Ali Khan has become one of the most favored actresses of Bollywood, Ibrahim has not officially ventured into the entertainment world. He is often spotted on Sara's Instagram, but his own account also has more than 300k followers. While Saif Ali Khan shared that his son has a big interest in acting, Sara revealed that Ibrahim absolutely is passionate about becoming an actor and that he has a nature for it.
Ibrahim Ali Khan Instagram is: iakpataudi
>>> Get To Know Ibrahim Ali Khan Through The Sayings Of His Parents Amrita And Saif
2. Aryan Khan
Having a world-famous father means it is a hard precedent to follow. However, Shah Rukh Khan's son seems to be aware of that. Although Aaryan does have a passion for entertainment, it is directing that he wants to pursue. As he does not want to act, you may see him debut in Bollywood in the writing capacity.
Aryan Khan Instagram has earned a verified tick and a number of more than 1 million followers.
Check it out at: ___aryan___
3. Aarav Bhatia
Aarav is adored actor Akshay Kumar and author Twinkle Khanna's son and he is one of the most fetching star kids. Aarav Bhatia lives a low-profile life as he always tries to avoid the paps. About Aarav Bhatia's debut in Bollywood, Akshay shared that his son can choose any career path that he aspires.
4. Suhana Khan
While her brother Aryan Khan wants to work in Bollywood as a director or producer, Suhana Khan is ready to follow her father's footsteps. Currently, she is studying at NYU and she has plans to meet the cameras soon. She, in fact, has acted in her classmate-directed short film titled The Grey Part of Blue. Her acting was praised by the netizens. According to reports, Suhana Khan will make her first steps into the town once she completes her studying at the University. Suhana Khan Instagram has been made public these days and she has had 368k adorers until now.
Her Instagram is: suhanakhan2
5. Khushi Kapoor
While Sridevi and Boney Kapoor's big daughter Janhvi Kapoor has entered Bollywood and stolen hearts with her acting, their second daughter Khushi Kapoor has not been seen on the screens.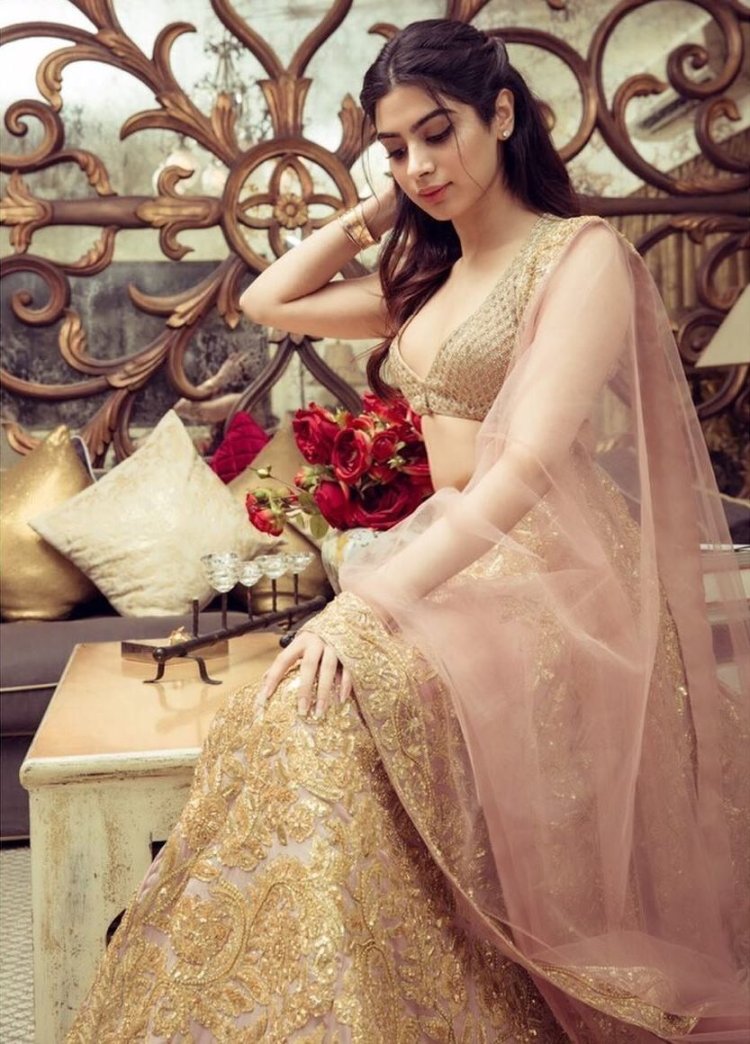 Well, that is going to change as she had unveiled that she would very like to have a place in her family business. Khushi Kapoor is currently finishing her degree at NYFA (New York Film Academy).
Khushi Kapoor Instagram is unknown until today.
6. Ahaan Panday
The Bollywood gene seems to run in the Panday bloodline. After the debut of Ananya Pandey in Student of The Year 2, the one to be next in line is likely to be Ahaan Pandey, Ananya's cousin. Ahaan has already had a great fanbase on his social handle with 204k Instagram followers. As reported by India Today, he has signed up with Yash Raj Films for his debut movie.
Ahaan Pandey Instagram is ahaanpandayy
7. Shanaya Kapoor
One of the star kids whom we will see soon on the screens is Shananya Kapoor, one of Ananya Pandey's best friends. She is Maheep and Sanjay Kapoor's daughter.
Last year, she had her public debut at the Le Bals des Débutantes, an annual coveted ball and fashion event in Paris. Also, Shananya has worked as an assistant director for Janhvi Kapoor's new project Gunjan Saxena: The Kargil Girl. Considering other star kids' career route, Shanaya Kapoor has made every necessary step before becoming an actress herself.
8. Ahan Shetty
Ahan Shetty is considered Suniel Shetty's younger version as they share a striking resemblance. He is currently ready to venture into the entertainment world after his sister Athiya Shetty.
Reports of Times of India were rife that he is going to make his first appearance on-screen in a Hindi reboot of RK 100, a Telugu blockbuster. The movie is a Mohit Suri directorial and a producing work of Sajid Nadiadwala.
Even before his official debut is confirmed, he has garnered quite a lot of fans on social media. Ahan Shetty Instagram is ahan.shetty which now has 158k followers.
9. Ira Khan
The eldest daughter of Aamir Khan already is known with her work as a director for Hazel Keech acclaimed starrer Medea.
It has not been official whether Ira will pave her way into B-town as an actor or a director. But her Instagram account stands testimony to the fact that she can do both. Well, she is a perfectionist's daughter after all. No wonder why the genes have to be passed on.
Ira Khan Instagram is khan.ira
10. Yashvardhan Ahuja
Yashvardhan Ahuja is Govinda's son and he is considered to look lie a young Ranbir Kapoor. While Tina, who is his sister, was seen recently in Milo Na Tum music video, he has not made his debut in Bollywood yet. In 2017, a leading daily had revealed that he was collaborating with the marketing team of Sajid Nadiadwala in order to learn about filmmaking.
Yashvardhan Ahuja aspires to debut in a comedy movie as his father did.
Now you have been quite familiar with the star kids, whose debut in Bollywood are you most expected to see?