Pregnant Celebrities 2020 List: Please Welcome A Lockdown Babies Generation
Leela Adwani |Oct 29, 2020
Rounding up the list of pregnant celebrities 2020 is a way to spread love and share joy. Read on to know whether your favorite celebs are to-be-mommies or daddies.
2020 seems to be strange for all of us because of the pandemic. We are living in the new normal, we suddenly have to spend more time at home than ever. While most of us were busy cursing the year during quarantine, a lot of celebrities turned their lockdown into a once-in-a-lifetime opportunity to make babies. From Indian stars to international ones, pregnant celebrities 2020 are those who have the best and most romantic quarantine. Many celebrities from the entertainment industry have announced that they are expecting. Since the beginning of the year when the lockdown started implementing nearly across the world, stars respectively shared their happy news and since then the pregnancy announcements have kept rolling. It goes without saying that not only their family, close friends but also the public can't wait to see other celebs announcing the arrival of their family's new members as the year goes on.
Now we can all do with these positive vibes by rounding up the list of pregnant celebrities 2020 as a way to spread love and share the joy. Read on to know whether your favorite celebs are to-be-mommies or daddies.
Kareena Kapoor Khan
Bollywood diva Kareena is embracing motherhood again! Recently on 12 August, the Khans broke the Internet as Saif Ali Khan confirmed that his wife Bebo is carrying their second baby. She is the first name in the list of Bollywood actresses who got pregnant in 2020. In their official statement, the actor announced,
"We are very pleased to announce that we are expecting an addition to our family!! Thank you to all our well-wishers for all their love and support."
Post the big announcement, fans of the couple can't get enough of the news. They are floating on air and eager to see another angel of couple Kareena-Saif. Especially, they are also want to see the cutest munchkin Taimur Ali Khan in a new position and how the big brother takes care of his newborn baby.
Anushka Sharma
Following Kareena's footsteps, shortly after the announcement of the Khan family, the power couple Virat and Anushka took the whole Internet by storm after they told the world that Anushka is pregnant. The duo shared the loved up photo of the actress with her visible baby bump on their respective social media account, making Anushka one of the Bollywood actresses who got pregnant in 2020. Captioned their Instagram posts, they wrote,
"And then, we were three! Arriving Jan 2021."
Amrita Rao
The list of pregnant celebrities 2020 cannot complete without mentioning Amrita Rao. If all the limelight seems to be on Kareena and Anushka, Amrita Rao's is a bit more low-key as the couple hasn't officially confirmed their pregnancy news.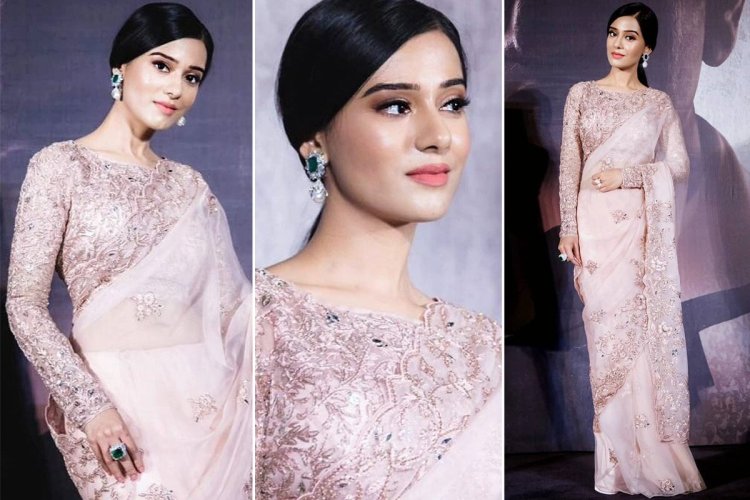 The Vivah actress and RJ Anmol tied the knot in 2016 and after 4 years of marriage, they are expecting their first child. The pair was spotted outside a clinic in Khar. In August, the couple finally confirmed the big news. The actress reveals that her husband RJ Anmol always makes sure to read at least one chapter of Bhagavad Gita for her and their baby every night. It's too sweet to handle, isn't it?
Sophie Turner
Us Weekly first confirmed in February that Priyanka Chopra's sister-in-law a.k.a Game of Thrones star Sophie Turner is expecting her first child with singer Joe Jonas. The couple quietly welcomed their baby girl on 22 July 2020 and have kept mum on her birth on social media. They named their baby daughter Willa. The couple had a little white wedding in May 2019 which was later followed by a second wedding in France.
Gigi Hadid
In April, supermodel Gigi Hadid and her singer boyfriend Zayn Malik stunned everyone as they confirmed they are having a baby together after several times breaking up. Fans of this beautiful couple were going crazy when seeing their favorite pair getting back together and having a happy ending with a cute baby. For those who are unversed, Gigi Hadid and Zayn Malik remain an on-and-off relationship. The young couple parted ways several times before having a baby. Earlier, on September 23, the former member of One Direction announced the arrival of their newborn daughter on Twitter.
Nicki Minaj
It's not far off the mark to say the name of rapper Nicki Minaj is a must on the list of pregnant celebrities 2020. In July, the rapper took to her Instagram handle to share a series of pictures showing her cradling her baby bump. Wearing colorful wings, a floral bikini, and high heels, Minaj stunned the netizens with her extremely new look. Sharing the set of photos, she wrote,
"Love. Marriage. Baby carriage. Overflowing with excitement & gratitude. Thank you all for the well wishes."
Earlier in May, she already fulfilled pregnancy rumors when she replied to a fan's question. Asked for a picture of her baby, the rapper stated that the world isn't ready yet.
Emma Roberts
The We're The Millers star Emma Roberts is also one of the pregnant celebrities 2020. The actress confirmed the news by sharing a series of pictures on her Instagram handle displaying her pregnant belly. She is expecting her first child with her beau Garrett Hedlund who is also an American actor. The couple was first linked in March 2019 after being snapped on a stroll in the Silver Lake neighborhood. We know our childhood finally comes to an end when seeing our first celebrity crushes getting married, then starting a family. However, it's far off the mark to say they are a part of our childhood, part of our life and we are happy to see their children grow up as well. The public surely wants to see more names added to the pregnant celebrities 2020 list.
>> Also Read: Bollywood Actress Hot Navel – Pictures To Prove Fashion Has No Age Boundaries