Who Would Survive In The Nightmare Named 'Actress Without Makeup'?
Hanima Anand |May 30, 2020
From hottest beauty queens to veteran actresses of the Bollywood industry, no one can escape the nightmare named "actress without makeup". Let's see who survive today!
When everybody stays home, no one looks glamorous as they used to be. People turn to their most real appearance with pajamas and no-makeup look. It's the time when fans suddenly wonder how their idols would look like without makeup, and here comes hottest Indian actress without makeup collection from Starbiz.com.
Let's see which Bollywood actresses without makeup impress you the most, and which ones you want to forget the whole life! Names of Indian actresses and beauties here are put in a random order without any intention of ranking. The winner is up to your opinion.
1. Aishwarya Rai without makeup
The very first name we would like to mention is Aishwarya Rai Bachchan without makeup, simply because she is considered the statue of beauty.
The 46-year-old beauty Queen is always the center of attention whenever she appears. She even leaves remarkable impressions on foreign eyes in international events with undeniable charming and fashion tastes.
However, this actress without makeup look from Aishwarya may make some hearts miss a beat. 2. Alia Bhatt without makeup
The next name is a famous Bollywood actress without makeup, who is the current girlfriend of Ranbir Kapoor, Alia Bhatt.
Born on 15 March, 1993 in a cinematic family, Alia Bhatt soon got attention when she made her debut in 2012. The daughter of the filmmaker Mahesh Bhatt is loved by many for her modest character and cute appearance. As she often wears light makeup, Alia Bhatt without makeup look is not much surprising to her fans.
3. Deepika Padukone without makeup
Being a fashion model at first then one of the top highest paid Bollywood actresses, Deepika Padukone is always confident with her beauty.
Wife of Ranveer Singh isn't shy from appearing public without makeup, especially when she heads for gym or casual events. This is partly due to Deepika Padukone without makeup look is attractive enough for other girls to get envious. 4. Rakul Preet Singh without makeup
Next is an emerging name in the Bollywood industry. This girl is more familiar with Telugu and Tamil cinema but she is working in more projects with Hindi film producers recently.
Similar to Deepika Padukone, Rakul Preet Singh also has her starting point as a model while her beauty is widely recognized across the country. That's why people are curious how Rakul Preet Singh without makeup look like. 5. Rekha without makeup
Rekha is the stage name of Bhanurekha Ganesan, a famous Indian actress with more than 180 Hindi movies. She is already 65 years old now but this woman doesn't show much aging with makeup.
However, when it comes to Rekha without makeup photos, some people startle. They couldn't believe that's how their idol looks like in real life. 6. Katrina Kaif without makeup
It can be said that Katrina Kaif conveys a special beauty which is not typical in India. She was first discovered by Kaizad Gustad in a fashion show in London back in 2003. From then, Katrina Kaif has set up a firm position in Bollywood industry despite her poor performance.
Her appearance might be the main factor to compensate for this weakness. Take a look at Katrina Kaif without makeup to see whether you agree with that statement. 7. Urvashi Rautela without makeup
A much younger face is Urvashi Rautela, the Queen of Miss contests: Miss Teen India 2009, Miss Tourism Queen of 2011 and Miss Diva Universe 2015.
Urvashi was born in February 1994 but her appearance looks rather mature compared to her age. Her curvaceous body is the most outstanding point to mention, which makes Urvashi Rautela without makeup look be glossed over in the eyes of her fans. 8. Sonam Kapoor without makeup
People mostly know Sonam Kapoor with the attachment to her husband Anand Ahuja. They are curious about how rich Anand is and they agree for sure Sonam Kapoor is a beautiful talented actress.
As she always appears in her most glamorous look in public events, Sonam Kapoor without makeup is searched frequently on the Internet. Finally you can check those photos today and voice your opinion! 9. Shraddha Kapoor without makeup
Featured in Forbes Asia 30 Under 30 of the year 2016, Shraddha Kapoor is one of the most well-known actresses of Hindi film industry. This Bollywood actress is also among the highest-paid list for Indian female actors.
Shraddha Kapoor was born in 1987. She debuted in 2010 then joined a number of blockbusters like Aashiqui 2, Baaghi, Saaho or Chhichhore. Shraddha Kapoor without makeup look bears her signature confident look.
10. Sunny Leone without makeup
Compared to other names in this list of Bollywood actresses without makeup, Sunny Leone might be the one with most bizarre story.
People know what she looks like even without clothes but then they continue to search for her without makeup look.
Whatever the reason is, here are some moments Sunny Leone flaunts her true beauty. 11. Kiara Advani without makeup
Kiara Advani's real name is Alia Advani. She was born in July, 1992 and made her debut in 2014. Though her first movies didn't gain success, her beauty and endeavor put her through tough time and shine in later Hindi drama Kabir Singh.
Talking about her appearance, she is more known for controversial topless photos in Dabboo Ratnani calendar photoshoot. 12. Priyanka Chopra without makeup
The actress without makeup list can't be complete without PeeCee, one of the most followed Bollywood actresses on Instagram.
Indeed, Priyanka Chopra Jonas is not only famous for her beauty but also admired for her intelligence. A woman with beauty from inside will never bother flaunting her without makeup look in public.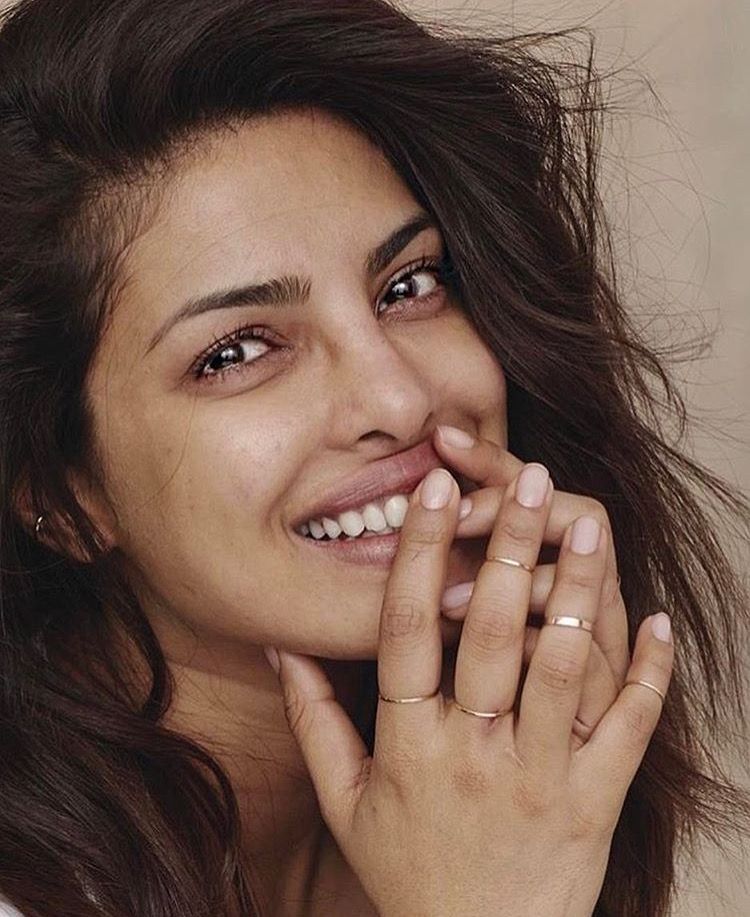 13. Nargis Fakhri without makeup
Like Katrina Kaif, Nargis Fakhri didn't have her birthplace in India. She is an American with Asian beauty. The 30-year-old actress owns a sexy figure with attractive lips.
Nargis Fakhri without makeup look can also make men go weak on their knees. 14. Anushka Sharma without makeup
This is one of our favorite Bollywood actresses with confident appearance and flawless without makeup look. The wife of King Kohli is always seen energetic with big smile on her face.
Anushka Sharma natural face is surely among the best shots of this actress without makeup list. 15. Yami Gautam without makeup
Although her father Mukesh Gautam pursues his career in Punjabi film industry, Yami Gautam shows her passion for Hindi movies.
Thanks to her amazing performance plus gorgeous body, Yami Gautam earns various awards and nominations for projects she's in, namely Badlapur, Kaabli or Uri: The Surgical Strike. 16. Jacqueline Fernandez without makeup
It is reasonable why people search for this actress without makeup. Jacqueline Fernandez used to be a model and winner of Miss Universe Sri Lanka in 2006. She then moved to the Hindi film industry and quickly gained affection from Indian fans.
Jacqueline Fernandez is among the hottest Bollywood actresses today with many memorable roles in Kick (2009) or Housefull 3 (2016). 17. Kriti Sanon without makeup
Another name of beauty is Kriti Sanon, the 29-year-old Bollywood actress born in New Delhi.
Despite studying Information Technology at first, Kriti Sanon understands her potentials and quickly steps into the entertainment industry. Famous movies of this actress include Heropanti, Dilwale, Luka Chuppi and Housefull 4.
With such a pretty face, Kriti Sanon without makeup photo doesn't pose much trouble for her. 18. Bipasha Basu without makeup
Bipasha Basu is a versatile actress who has worked in many Indian film industries, including Hindi, Tamil, Telugu and Bengali. Owing to her voluptuous figure, Bipasha Basu is often referred as a sex symbol in the Bollywood industry.
Bipasha Basu without makeup photos are also searched frequently on the Internet, proving her popularity among Indian netizens. 19. Kangana Ranaut without makeup
Here comes a bold Bollywood actress without makeup!
Kangana Ranaut is a talented woman who has been featured 6 times in Forbes India's Celebrity 100. She was even awarded Padma Shri by Indian government. Not just Kangana Ranaut without makeup, Kangana Ranaut in bikini photos are also hot hunted on the web.
20. Disha Patani without makeup
The last name in our list of Bollywood actress without makeup is Disha Patani, the hot girl of Tiger Shroff.
While Disha Patani hot curves are undeniable, many people show doubts when it comes to her natural look. See Disha Patani actress without makeup pic below! So, among all above Bollywood actresses without makeup photos, which one do you prefer the most?
Should these actress without makeup pictures be put in their profiles for beauty pageants so the committee can judge them more accurately?
Share your opinion in the comment box below!
>>> Related post: Top 10 Sexiest Bollywood Bikini Instagram To Follow This Summer!