20 Pairs Of Hollywood And Bollywood Celebrities Look Like Identical Twins
Maanyata Thu |Jun 02, 2019
Let's take a look at the list of Hollywood and Bollywood celebrities look like identical twins below!
If you have ever mistaken for Angelina Jolie and Esha Gupta or Cobie Smulders and Katrina Kaif, then we have a perfect list of Hollywood and Bollywood doppelgangers for you. Scroll down to check out!
Anne Hathaway and Dia Mirza The Bollywood diva Dia Mirza bears an uncanny resemblance with Hollywood's top actress Anne Hathaway.
Cobie Smulders and Katrina Kaif Bollywood actress Katrina Kaif has been compared to How I Met Your Mother actress Cobie Smulders. Their smiles and flawless looks help add up to an undeniable and uncanny resemblance.
Sneha Ullal and Aishwarya Rai Bachchan Bollywood star Aishwarya Rai Bachchan, who is regarded as one of the most beautiful women on earth, finds her doppelganger in Lucky: No Time For Love's actress Sneha Ullal
Kim Kardashian and Sophie Choudry British-Indian actress and singer Sophiya Chaudhury, who is known for her VJ roles on MTV and her performances Pyaar ke Side Effects and Shaadi No. 1, looks similar to reality superstar Kim Kardashian.
Katrina Kaif and Zareen Khan Just look at them closely, their way of smiling, their jawlines and body types are sure to trick your eyes!  These two Bollywood actresses could easily play the role of twin sisters in their joint venture.
Angelina Jolie and Esha Gupta Bollywood actress and pageant winner Esha Gupta shares striking resemblance with one of the Hollywood's leading actresses Angelina Jolie, especially her nose and the structure of the face is quite similar to the superstar.
Ileana D'Cruz and Erica Fernandez The Kannada actress Erica Fernandes looks like the Barfi star, Ileana D'Cruz.
Audrey Hepburn and Aditi Rao Hydari Many fans are convinced that Aditi Rao Hydari is a doppelganger for a young Audrey Hepburn.
Jean Reno and Sanjay Dutt Bollywood actor Sanjay Dutt looks very similar to Hollywood actor Jean Reno, who is most known for his appearances in The Da Vinci Code, Mission: Impossible, and The Pink Panther
Zac Braff and Shahid Kapoor The Bollywood actor and the Hollywood star should switch places for a day and see if anyone can tell the difference.
Antonio Banderas and John Abraham Bollywood star John Abraham has been mistaken for famous Spanish soccer player Antonio Banderas.
Aamir Khan and Tom Hanks Aamir Khan looks surprisingly like young Tom Hanks. The two stars have more in common than just their looks - they have both followed the same path and won millions of hearts with their outstanding performances.
Hrithik Roshan and Bradley Cooper The two stars are known for their perfection and brilliant acting in this industry, but they also have the same resemblance in terms of their looks, especially the eyes.
Ranbir Kapoor and Ryan Gosling They don't even look the same, but they are both known for their amazing work in their respective fields.
Dominic Cooper and Virat Kohli Virat Kohli, the captain of Indian cricket team strike a very close resemblance with famous Hollywood actor Dominic Cooper, who has starred in films like Captain America and Abraham Lincoln- The Vampire Hunter.
Colin Farrell and Emraan Hashmi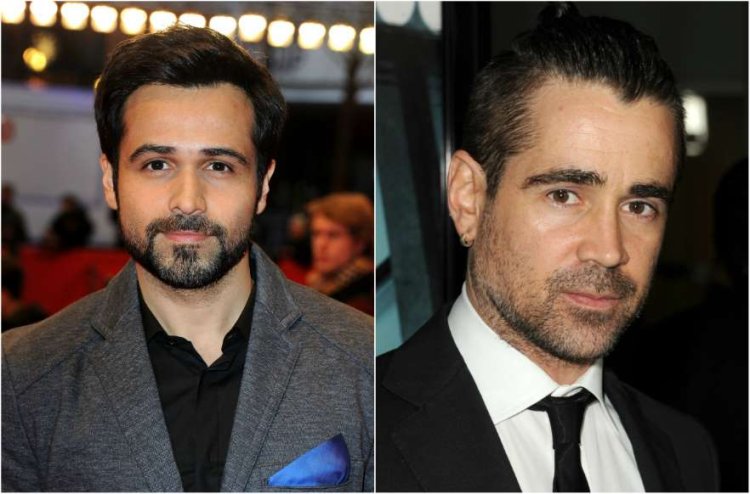 Bollywood actor Emraan Hashmi could easily replace Hollywood star Colin Farrell when it comes to looks.  
Shawn Michaels and Akshay Kumar Bollywood superstar Akshay Kumar has a striking resemblance to WWE Superstar the Legend Shawn Michael
Debra Messing and Pooja Batra Former Femina Miss India International Pooja Batra finds her lookalike in Hollywood actress Debra Messing. Their surprisingly similar facial structure will stun you.
Tusshar Kapoor and Phillip Rhys Tusshar Kapoor has often been mistaken for British TV actor Phillip Rhys
Charlie Sheen and Jeetendra Bollywood actor Jeetendra and Hollywood star Charlie Sheen look so much alike that when they sit next to each other, we honestly cannot tell them apart.