Silent Tears Behind The Smile Of Indian Brides After Their Wedding
Ankita Chetana |Feb 21, 2020
If you ever wonder why many Indian brides cry at the wedding or you are already a married woman, let's read this article to swallow the feelings of that date one more time.
Today we are living in the modern world with convenience and smart technology devices. But many Indian brides cry at the wedding because of missing their parents. Some people may wonder the reason when they can call home anytime they want. Let us tell you some stories that help you know why Indian brides cry at the wedding. The door closes, an Indian bride has to follow the other virtual of a marriage such as cooking meals, serving her husband's family. From the old people to the young, she needs to show gratitude for letting her be a part of their family. Getting married means the era of unconditional love and pampering from parents also ends. The road ahead, she has to walk by herself. It is the first heartbreaking news coming to her.
In the middle of strangers who won't be ready to give a hand to her when needed. For those who are not chummy at all, love from a strange place is a luxurious thing they can require. How difficult it is to leave parents and siblings behind to start a new life with a strange environment. Sometimes, her crying sound cannot reach anyone from her husband's family.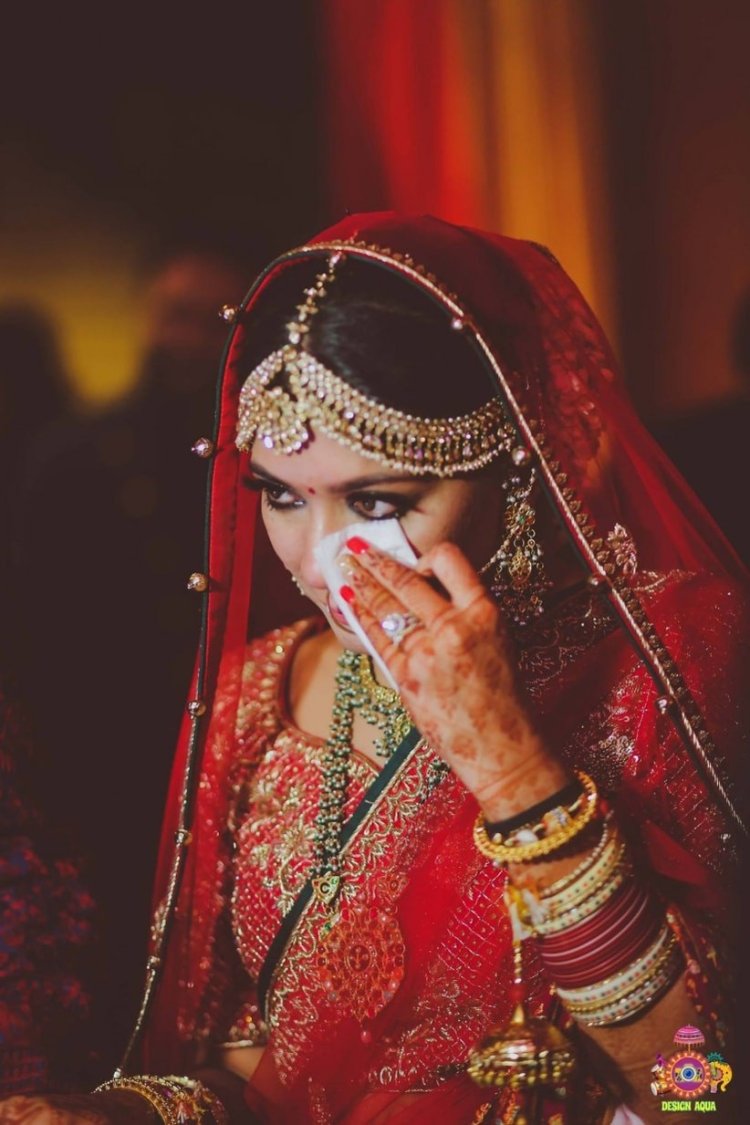 Gone are the days she stayed in the warmth from her mother's embrace. Gone are the days she was happy with the instructions and lesson from her father. Gone are the days she had regular arguments with her siblings but after all, they spent the little care for each other. Only her with the new living space and the eyes of a new family.
Back to the question that why do Indian brides cry at the wedding when they can use phones to call their parents. The calls can connect two distant individuals, however, it is the distance that drops brides in tears. It's not easy for them to come back to their beloved homes whenever they want. The thought of living far from parents even just some doors shudders various Indian brides. A woman said that when their very own parents' house becomes a place of mere visits, it is when the biggest tragedy occurring in the life of a girl. And actually, the mothers also shed a tear when witnessing their daughter entering a new house regularly that is not their house. Living away from home after marriage is not the same as the long-distance when studying or working abroad. Once the girl leaves that door, it's time to control everything and herself as well. Marriage is a sacred thing, but for Indian women, leaving their former freedom and parents wails their lungs enormously. The moist eyes state more than anything else, sometimes they can just cry their hearts out. Ever since in India, the brides often tear their sorrows for being separating from their own parents. As a plunge of a downpour, tears are enough to show out what they feel inside at that time? No, absolutely not.
Not all the Indian brides cry at the wedding, but to make sense, it's a common case showing their emotions on that date. We can't criticize the way they do whether crying or not. Because after all, in the depth of our souls, we beg one more minute to stay with our parents.