Melania Trump Fashion Controversies - Rare Photos Of First Lady's Career As A Model
Salena Harshini |Feb 25, 2020
Get to know more about the First Lady of the United States through her young pictures and the most prominent story of her. You won't believe this woman used to look that hot!!!
President of the U.S. Donald Trump and his wife, First Lady Melania Trump recently arrived in India for a 36-hour visit and were welcomed by PM Narendra Modi when they came to Ahmedabad.
The nation has gone frenzy for Melania, bringing her equal coverage with Donald Trump on their visit and lauding her distinct Be Best campaign. When the first lady joined Prime Minister Modi and her husband Trump for a rally, she got a rowdy greeting from the crowd of 110 thousand capacity at the world's biggest cricket stadium, Sardar Patel Stadium. If you are wondering who is Melania Trump, we will help you enlighten all your possible questions while rounding up the best of Melania Trump fashion when she was younger.
Who is Melania Trump?
The First Lady used to be a model and she is the third wife of Donald Trump – U.S. president, former reality TV star and real estate billionaire.
Trumps wife name is Melanija Knavs, whose Germanized version is Melania Knauss. Looking at the fresh appearance as well as sexy style of First Lady, many people wonder about Melania Trump's age. For your information, Melania Trump was born on April 26th, 1970. She is 49 years old as in 2020 now.
Melania Trump literally stands above the past first ladies. She has a height of 5ft 11in which equals 1.80m. The former model is taller than the average woman as well as most of her White House predecessors. Melania Trump young pics
The First Lady was brought up in a modest home with her sister named Ines. She later found out that she had a half brother who is her father's son in an earlier relationship.
Her father, Viktor Knavs, was a car dealer while her mother Amalija Knavs, was a children's clothing designer. They now live in Washington. Her younger sister is an artist who reportedly lives in New York.
Melanie Trump started her modeling career at the age of 16. She signed to work in a Milan agency two years later. She also enrolled in the University of Ljubljana, however, she dropped out after a year to keep on with modeling. These Melania Trump fashion clicks will show you how she nails it even when she was still a model. In the early days of her career, she worked in Paris and Milan before shifting to New York back in 1996.
It was where the First Lady gained steady work as she collaborated with quite a lot of famous photographers such as Helmut Newton and Patrick Demarchelier. She also landed as cover girl for Bulgaria Harper's Bazaar, Italian Vanity Fair, Sports Illustrated Swimsuit Issue and GQ (in which she posed unclothed in January 2000). Melania Trump's marriage to Donald Trump
She first met her husband at a party in September 1998 after which they soon started dating. The former businessman had got married twice and he was in the divorce process when they met.
They were in a relationship for 6 years before Donald Trump proposed to her in 2004 and the two tied the knot in January 2005. Their lavish wedding ceremony was held in Palm Beach, Florida, with the attendance of many celebrities such as Shaquille O'Neal, Kelly Ripa, Barbara Walters, Katie Couric, Matt Lauer, Bill Clinton - former President and Hillary Clinton - New York Senator back then. In 2006, the couple was blessed with a son named Barron William Trump. Barron is Donald Trump's fifth child.
Fun fact: Melania Trump is said to be fluent in the English, Slovenian, French, German and Serbian languages, with other sources reporting she also speaks Italian.
Melania Trump Scandals
She has gotten in a number of infamous controversies, one of which includes the racist Melania Trump fashion pictures.
1. Melania Trump nude photoshoot
She is the sole first lady who has posed nude. Three years prior to meeting Trump, Melania took a naked photoshoot in a magazine for French men. The jaw-dropping photoset shows Melania Trump lying on the bed in her birthday suit alongside Emma Eriksson, a Scandinavian model. As mentioned above, she was also in a GQ photoshoot with a lot of bold clicks. These nude photos od Melanie Trump attracted a lot of attention and got massively viral especially after she became the First Lady.
2. Melania Trump Plagiarism
Melania Trump was accused of plagiarism not once but twice.
The first case was when reporters realized the similarity between Melania's Be Best initiative in 2018 and a document from Obama-era.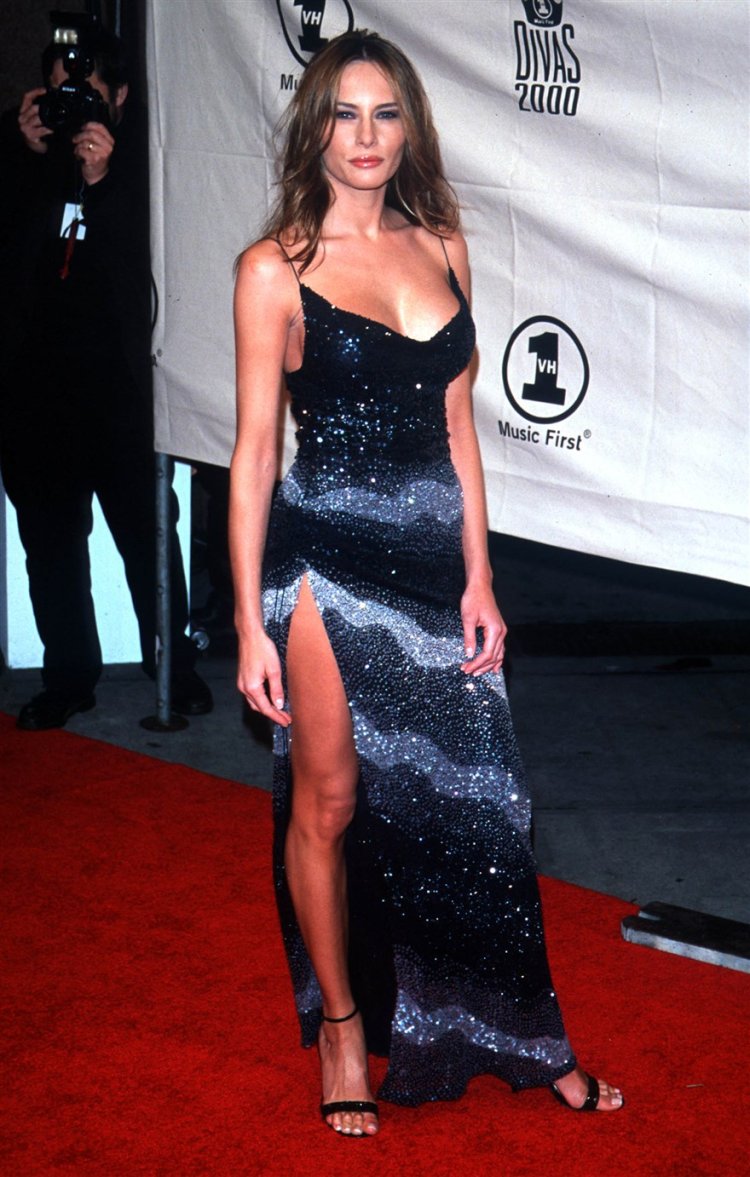 According to ABC News, Melania Trump launched this campaign in order to "encourage adults to help teach children to be good citizens". However, a number of news reports said that the tagged booklet shared an immense resemblance to the information shared during the Obama administration.
Then again, in 2016, Melanie Trump trended again as most parts of her speech seemed to be taken directly from a speech by Michelle Obama in 2008.
3. Melania Trump controversial clothing
Melania Trump fashion sometimes gets her embroidered in controversies. Back in May 2017, Melanie Trump arrived in Sicily and was seen donning a Dolce & Gabbana coat that cost $51,500. It would not be a problem with that exorbitant cost if that time was not during Donald Trump's announcement of plans for a healthcare bill which aimed to gut the Affordable Care Act. Moreover, the Melania Trump look which sparked the most outrage was when she put on a Zara jacket saying "I really don't care, do U?" on her trip to visit immigrant children at a government facility in Texas. Afterward, Melanie claimed that it was a total misunderstanding as she wanted to refer that message to the paparazzi who always stalk her every move.
The choice was because the country was in an uproar for Donald Trump's immigration policy with "zero tolerance", separating families at the border. Melanie Trump's spokeswoman then also shrugged off the scandal, saying it had no hidden meaning. Through these Melania Trump fashion pics when she was younger, we can see that her style has gone through an evolution. She has become more delicate and subtle in sartorial choices just as a First Lady should be.
>>> Also check: Ivanka Trump Wardrobe Malfunction – When You're Too Hot For Formal Meeting