Hot Spanish Actresses Who Make It Big In Hollywood With Talent And Grace
Salena Harshini |Nov 19, 2020
These talented, beautiful Latinas are so hot that even if you are in the snow desert, you will still feel the heat while looking at them. Check out!
Jennifer Lopez, Salma Hayek, Shakira are only a few names that may come to mind when it comes to the sexiest ladies on this planet, and surprisingly, they all happen to be Latina. The sexy level of these hot Spanish actresses is beyond words, so you will need to buckle up before scrolling through the list of most on-spotlight actresses.
For your information, they are not only about looks but they have worked hard and carved a niche for themselves through major film achievements, and other side works as well.
Penelope Cruz
Penelope Cruz is the beauty icon of Latina women in general and Spanish actresses in Hollywood in particular. The brunette beauty with dreamy brown eyes could win any heart with her charisma. The actress enjoys a successful career with her list of unique roles in Pirates of the Caribbean, Vicky Cristina Barcelona, Vanilla Sky. She is also known for her enviable marriage with actor Javier Bardem.
Paz Vega
Paz Vega is also one of the hot Spanish actresses that have a huge effect on the entertainment industry. Before getting into the world of limelight, she was a journalism student and now she is known for acting, especially for her voice lending in Madagascar 3. She is often compared to Penelope Cruz but she said that she feels honored to be put on a scale with the fellow bombshell.
Salma Hayek
Salma Hayek is one of the fieriest beauties on the Hollywood screen. The Mexican star has achieved countless successes on the path of artistic activities, even got nominated for an Oscar. She was at the peak of her career when she surprised the world with her decision to marry Francois-Henri Pinault - CEO of the world's second-largest fashion group Kering, the master of the global fashion empire.
Eva Mendes
Eva Mendes is yet another starlet who is named in the top hot Spanish actresses. She impressed the audience with a steamy body and powerful acting skills. She is the wife of Canadian actor Ryan Gosling and they have a daughter. It has been 6 years since her hiatus from the big screens and fans are still dying to know about her current life. It seems that she has been trying her best to keep her private life under wraps as she rarely posts about her little family on social media.
Sofia Vergara
Found by a model agency when she was casually hanging out on a Columbian beach, the 17-year-old Sofia Vergara may not have expected that her life would revolve around more than just being a model. Best known for her role in the famous sitcom Modern Family, Sofia Vergara still makes eyes pop at the age of 47 with a youthful face and hourglass body. She admitted that she must follow proper diet and exercise to maintain long-lasting beauty.
She is also one of the Forbes' Highest-Paid Actresses 2020, dethroning Scarlett Johansson.
Ana de Armas
Ana de Armas is step by step becoming a bright star in the town. The Cuban-Spanish beauty ventured into Hollywood with a lot of films but it was until Blade Runner 2049 that her name was actually shot into the highlight. Born and raised in Havana, Ana de Armas came from a non-filmy background. Her upcoming project is expected to hand her an iconic mark as she is going to be the on-screen Marilyn Monroe in Blonde, the biopic about the late stunner.
>> All You Need To Know About Ana de Armas & Her Relationship With Rumored Beau 'Batman' Ben Affleck
Eva Longoria
Eva Longoria is among the scalding hot Spanish actresses with the most widespread popularity. She is most famous for the series Desperate Housewives. Jennifer Lopez
Talking about J.Lo, everyone will think of an attractive woman with bold fashion choices and sexy dance moves. You may not know who she is now used to live in an underprivileged area.
Now that she has become a fashion and music icon, Jennifer Lopez with a curvaceous and toned body always stands out in every event she attends. Zoé Saldaña
What more do we have to say about this beauty? Not only is one of the top hot Spanish actresses in Hollywood but Saldana may also be included in the highest-grossing starlets with her savvy choices of international action franchises. She is part of the MCU Avengers movie while also partook in Pirates of the Caribbean. She was also in ticket-box super hits Avatar and Star Trek. Born to a Dominican father and a Puerto Rican mother, the Latina has definitely secured a stable spot for herself in town.
Elsa Pataky
Elsa Pataky is more known as Thor Chris Hemsworth's wife but it is a true problem not to name her in the assessment of hottest Spanish actresses. She has been away from the cinema focus for a long while now but her beauty is still ready to make anyone melt at any moment.
Astrid Berges Frisbey
Another Spanish actress name to be called is Astrid Berges Frisbey, the model-actress who can steal heart with her ethereal charm and one-of-a-kind eyes. Born in Barcelona to a Spanish father and an American-French mother, she has made an attempt at modeling and acting since a young age. Her most known works are I Origins, Kign Arthur: Legend of the Sword, Juliette, among others.
Demi Lovato
Demi Lovato whose roots are Mexican has been thriving to be a top powerful singer and actress despite lots of hurdles. Although her career earns a lot of respect, her personal life has not been easy and we have high hopes that one of the hottest Spanish actresses would find her true happiness one day.
>> Disney Stars Then And Now: Nick Jonas, Demi Lovato... See How They Have Grown Through Time
Eiza Gonzalez
Eiza Gonzalez, after starring in Fast & Furious: Hobbs & Shaw, has been more recognized than before.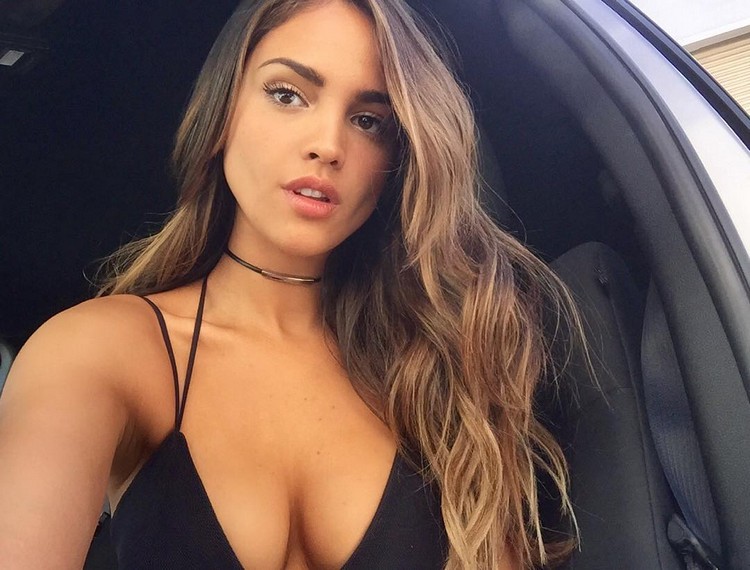 Owning an alluring aura and a flawless body, it is no doubt that she has many men wrapped around her fingers. Her list of boyfriends is rumored to include Liam Hemsworth, Cristiano Ronaldo, Timothee Chalamet.
>> Most Beautiful Lips In The World That We Bet You Can't Take Your Eyes Off