Angelina Jolie Will Move To France After Getting Married To A British Billionaire?
Bindhiya Nhi |Mar 13, 2019
After breaking up with Brad Pitt, Angelina Jolie is rumored to get married with a British billionaire and later move to France permanently.
Since the day Brad Pitt and Angelina Jolie went separate ways, they have gained much attention from people. Fans are indeed curious about their current relationship status. While Pitt is rumoured to reunite with his ex-wife Jennifer Aniston, Jolie is reported to be dating with a British billionaire and the couple even plan for a wedding.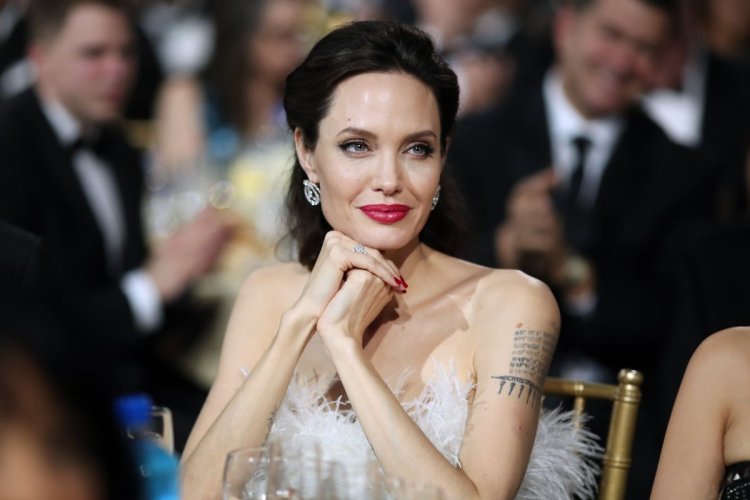 Angelina Jolie at Critics' Choice Awards (Christopher Polk/Getty Images)
It all started from an article in Life&Style magazine. The story is featured on their cover with Angelina Jolie's face and a big headline saying "Angie Wedding in France!" Based on their source, Jolie will get married to a British billionaire, and the wedding venue will be Chateau Miraval. They said that the billionaire asked her kids for permission and that she will move to France permanently because it only takes 2 hours to fly to his home. On the cover, it also said that Brad Pitt knew about their wedding from Shiloh Pitt. The story of Angelina Jolie features on Life&Style cover (Source: Life&Style)
However, Gossip Cop debunked this story, saying that something was missing in the article. They pointed out that the identity of the British billionaire was not revealed. Besides, Life&Style did not even describe when and how Jolie met that billionaire. Due to that ambiguous story, Gossip Cop stated that was just a made-up story.
Moreover, even Jolie's representative shut down the rumour of her upcoming wedding, saying "That is not the truth." Justin Theroux was married to Jennifer Aniston but they are divorced (Jon Kopaloff/Getty Images)
This was not the first time Life&Style published false stories about Angelina Jolie. Several months ago, they said that the Maleficent actress was dating Justin Theroux. Later, they wrote that the couple was having a vacation in Cabo. They even spread the news that Jolie introduced Theroux to her kids before came up with this British billionaire thing.
>> Suggested post:
Fashion Face-Off: White Swan Vs Black Swan – Angelina Jolie Vs Kendall Jenner – Who Wins?
[Old But Gold] Netizens Can't Get Enough Of The Images Of Angelina Jolie At The Peak Of Her Beauty