Shahid Kapoor On Collab With Ishaan Khatter: "I Would Be Happy To Work With Him"
Salena Harshini|Aug 24, 2019, 15:54
On sharing his thoughts about working alongside Ishaan Khatter, the actor said he is proud of his brother and would always support him.
To almost every Bollywood actor, appearing in the same project with their family members will bring a touch of fun along with a more homely sense on set. However, not many actors have had the chance to make that a real deal.
Shahid Kapoor is in the same circumstance as he has never shared the same screen with his half-brother Ishaan Khatter.
Fans have been wondering if the collab would ever happen and they have recently got hope after seeing Shahid and Ishaan went on the same road trip lately.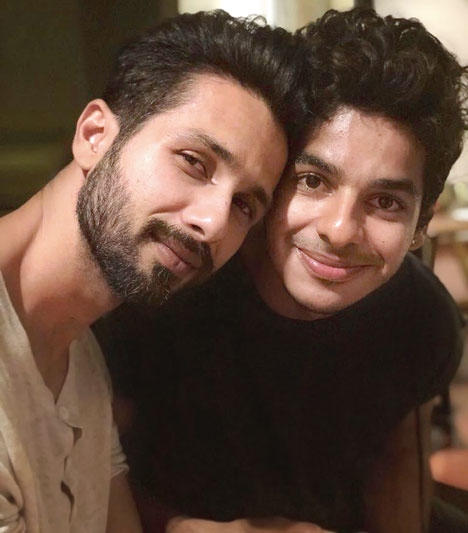 In a Hindustan Times interview taken just as of late, Shahid Kapoor opened up about the possibility of him and his younger brother working together. The actor said to have a belief that working alongside a member of the family adds in more pressure.
Shahid Kapoor shared that he would take any chance to act along Ishaan, but only when there is a good script. He also gave Ishaan a lot of praises and asserted that he was always aware of his bro's dancing and acting talents.
"If we like a script, I would be happy to work with him. It's tough enough playing a character, and if you are working with your younger brother, you feel responsible and don't want that stress of trying to crack a film. It is actually tougher, but like I said, if something interesting comes along, then we will do it."
Speaking of the event when Ishaan was 18 and visited Shahid on the set of Shaandaar, Shahid recalled, "All of us had gone out partying, and suddenly this guy comes and takes over the dance floor. And I was like 'Ishaan thoda chill maar', but he was like 'look at my moves'. So, I knew this one will be a dancer."
As a caring elder brother, the Kabir Singh star said that he felt proud of the achievements he has attained in his career so far. In addition, he said to always be ready to give him advice if he needs. On another hand, Shahid said that Ishaan would make his own decisions and that the actor supports his brother's choices.
A number of pictures were shared by Shahid and they showed their road trip to Switzerland. Fans gave all the love and adoration to their bonding and really hope for a mutual work project.
On the work front, Shahid Kapoor is still basking in his Kabir Singh's success and he will begin shooting for the remake of Jersey in November. Meanwhile, Ishaan Khatter will pull an oar in A Suitable Boy adaptation alongside Tabu.